Russia senses opportunity over Finmeccanica scandal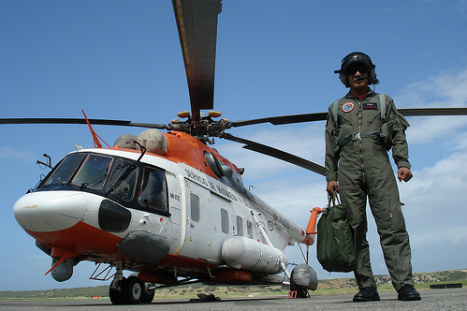 Mi-172 helicopter. Source: Flickr/Franle10
The Russians won't be wrong in smiling at the final outcome of the corruption-ridden AW-101 choppers deal, especially since there is a strong possibility of a new global tender.
In hindsight, the Russians may be smiling now that they missed the bus six years ago when M/s. Rosoboronexport, Russia (manufacturers of Mi-172 helicopters) was found ineligible for a $740 million (556 million Euros) deal for 12 helicopters meant for ferrying VVIPs. The deal eventually went to Agusta Westland, UK, a subsidiary of Italian company Finmeccanica, which is now mired in corruption charges, allegedly involving not only top officials of Finmeccanica and AW but also former Indian Air Force chief Shashi Pal Tyagi.
The Russians won't be wrong in smiling at the final outcome of the AW-101 choppers deal. There are two reasons. One, they have learnt a valuable lesson by proxy without getting singed by bribery allegations that the Italian company is presently facing. As per the Italians' own investigations, 51 million Euros were paid as illegal kickbacks to secure the deal – 31 million Euros for Italian politicians and 20 million Euros for the Indians.
True that the Russians do not need to learn any lessons from foreign vendors when their defence deals with India go awry or end up at the other side of the Indian laws. The Russians have known the Indian system so closely for decades now and still continue to be the biggest exporters of all kinds of weapon systems to India. The Italian experience is an eye-opener for all foreign vendors, including Russians, how not to mess things up.
The second reason that should bring cheer to the Russians is that the Indian government has already frozen the deal with the AW, though without making a song and dance about it by announcing it officially. India has also stopped any further payment to Agusta after having paid the company a little over fifty per cent of the total cost. The deal is also as good as frozen. AW has thus far supplied only three choppers and it is highly unlikely that the Indians would want to have the remaining nine choppers from AW.
But the choppers would still be required by India. There is a strong possibility that a new global tender would be issued afresh for the purpose, though it is difficult to imagine that present government will do such a thing all too soon. The Indian government is currently in a fire-fighting mode and has more urgent priorities in this context to attend to.
Whenever the RFP (Request for Proposal) is issued by the Indian Ministry of Defence for VVIP choppers, it is very much likely that more units would be required. The new deal, as and when it opens up, may be worth $1 billion or even more.
How the Russians Were Edged Out
It is interesting to talk about the manner in which the Russians were nudged out of the helicopter deal at a preliminary stage in February 2007. Sitanshu Kar, chief spokesperson of the Indian Ministry of Defence, has given some valuable Russia-specific details.
The ministry issued a global RFP in March 2002 for purchase of helicopters for ferrying VVIPs to which four vendors responded. The Technical Evaluation Committee shortlisted 3 helicopters and accordingly flight evaluations were conducted. Since, EH-101 of M/s. AgustaWestland was not certified for an altitude of 6000 metres, it did not participate in the flight evaluation. The Russian helicopter Mi-172 could not comply with seven mandatory Operational Requirements (ORs), Kar said on February 14, 2013.
The Acceptance of Necessity (AON) for the procurement of 12 helicopters was accorded by the Defence Acquisition Council under 'Buy' category with 30 percent offsets on January 3, 2006. RFP was issued to 6 vendors on September 27, 2006.
Three vendors, namely M/s Sikorsky, USA (S-92 helicopter), M/s AgustaWestland, UK (EH-101 helicopter) and M/s Rosoboronexport, Russia (Mi-172 helicopter) responded to the RFP.
Rosoboronexport did not submit the earnest money deposit and the Integrity Pact, along with their Technical and Commercial proposals, though it had been made clear to the Russian company in February 2007 that this was a global tender and hence every contractual clause would be the same for all vendors. So Rosoboronexport's techno-commercial offer was not accepted.
When the new RFP is issued, Rosoboronexport would be well served to meet each and every term and condition proposed by the Indian defence ministry.
All rights reserved by Rossiyskaya Gazeta.