Russian watchdog claims Indian rice, peanuts dangerous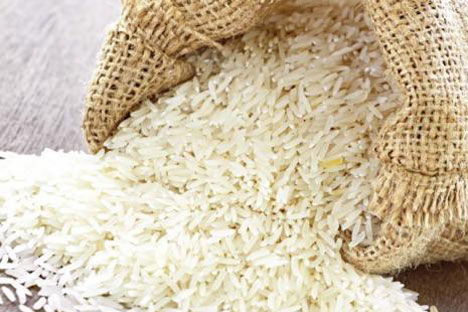 Thousands of tonnes of Asian rice, sesame and peanut were banned from being supplied to Russia. Source: Press Photo
Worried about pesticides and the khapra beetle, Rosselkhoznadzor has repeatedly urged its Indian partners to give information about crop cultivation technology.
On February 19, Russia's Federal Service for Veterinary and Phytosanitary Surveillance, or Rosselkhoznadzor, suspended rice and peanut imports from India and a number of its immediate neighbours. The temporary restriction was imposed due to the possible presence of the Khapra beetle in shipments from these countries, Rosselkhoznadzor said.
The restriction is the latest in a series of similar measures taken by Rosselkhoznadzor in the past few years.
Unfortunately, the Indian side, which is yet to create a reliable system of control over its rice exports, prefers to play down Rosselkhoznadzor' warnings.
This time, thousands of tonnes of Asian rice, sesame and peanut were banned from being supplied to Russia. Rosselkhoznadzor has repeatedly urged its Indian and other Asian partners to give information about crop cultivation technology specifically related to rice and peanuts. It seems that India and its immediate neighbours prefer to turn a deaf ear to these calls because the number of violations of Russian and international phytosanitary norms show no signs of abating. In this regard, Rosselkhoznadzor suspending rice imports from some Asian countries has become a common practice, says Irina Glazunova, deputy head of the Institute of Agrarian Market Environment in Moscow.
"The latest restriction is only natural," Glazunova says, referring to detection of the khapra beetle and pesticides in imported rice. "In 2012, India's rice exports to Russia amounted to record 55,000 tonnes, something that can be easily filled by other countries, such as Vietnam, Myanmar and Pakistan, which produce similar rice," she says.
When it comes to imports of grain, fish and meat to Russia, problems arise with dismaying frequency, experts say. For example, Moscow recently imposed a moratorium on imports of meat from Germany and the United States. The European Union stood up for the Germans by demanding that sanctions should be lifted because export products are fully in line with international quality standards. For their part, American politicians traditionally saw political undertones in the actions of Russian authorities. Some Western experts went so far as to argue that Rosselkhoznadzor allegedly fulfils a political order. Needless to say, the very problem of export of goods to Russia and its corresponding requirements often plays a negligible role. Igor Abakumov, of the Moscow-based Timiryazev Agricultural Academy, says that Rosselkhoznadzor has proved its professionalism, turning into an internationally distinguished watchdog.
Rosselkhoznadzor's rules should be strictly implemented in order to avoid conflicts, Abakumov says, pointing to the case of the American meat, in which medications used to accelerate growth of muscle mass were detected. In Russia, these substances are not permitted for sale and consumption, he concludes.
After Russia's accession to WTO, the import of foreign agricultural products to Russia increased significantly, and regarding some products - by almost a third. Naturally, this obliges supervisory bodies to bear more responsibility. But perhaps the most disadvantaged are the domestic manufacturers, who are already facing new and tough conditions of competition. The authorities and business people plan to speed up the modernization of the agrarian sector. This is not just a question of the survival of one of the most important industries, but also of Russia's economic welfare in the future. The Kremlin and the government have repeatedly said that Russia is bound to become one of the largest agricultural powers that will be able to meet its domestic demands and provide large-scale food exports.
All rights reserved by Rossiyskaya Gazeta.