A new frontier for Russian e-commerce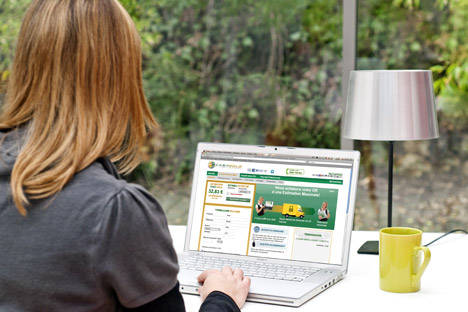 The Russian Far East is a very popular destination for business, just like other regions located far from the centre. Source: AFP EastNews
With cut-throat competition being the norm in Moscow and St Petersburg, online retailers are shifting their focus to the Russian Far East.
In early February, Vsevolod Strakh, 24, founder and co-owner of the online supermarket Sotmarket, announced that a transport hub was to be opened in Khabarovsk. The new logistics centre will coordinate deliveries of goods to all major cities of the Russian Far East: Petropavlovsk-Kamchatsky, Anadyr, Magadan, Vladivostok and Yuzhno-Sakhalinsk. The hub will reduce delivery time for goods from the previous up to one month to two or three days.
Moscow and St Petersburg account for the lion's share of Russian online shoppers; even so, more than 50 percent of all Internet shoppers live in the regions, while most of the logistics centres and headquarters of global brands are located in the European part of Russia. That is where foreign companies deliver their products; that is where the goods are cleared through customs; that is where these products start their long journey to the Far East. Also, that is the main problem for traders in household appliances and other goods in Russia.
Yet the market of the European part of Russia is quite competitive and retailers are naturally looking for new markets. This holds for both offline retailers and online stores. For instance, in late December 2012, the Kenguru chain of shops for children and future mothers opened its first POS in Khabarovsk.
The Russian Far East is a very popular destination for business, just like other regions located far from the centre, says Darya Puchugina, analyst at Investcafe. Competition is not very tough there and traders have a good chance of grabbing a large market share. "This market will keep developing quite fast, especially in the initial phase, because of the low base for comparison. Also, in due time, they will find it profitable to import goods directly from China. So shops will benefit from placing their logistics centres and warehouses in the Far East", the analyst says.
Residents of Russia's remote regions prove more patient when it comes to the delivery period and are ready to pay more. The average bill is higher here, as is the buyer conversion rate. "This is quite logical. Delivery to the Far Eastern Federal District costs more and people prefer putting everything they need in their online basket in order to save on delivery costs. At the same time, household appliances are more expensive in the Far East than on average in Russia", says Vsevolod Strakh.
It is the other way round in the European part of Russia, where you can observe concealed competition between Russian retailers and purchases abroad, from Germany, the UK, etc. The EU remains Russia's biggest trading partner and those going to Europe for business or pleasure often buy electronics for their friends, especially the latest gadgets. Take iPads, with price tags at least a quarter lower in the EU and the United States than in Russian stores. This is not a mass trend, though, because of import limitations. "Competition with China looks similar: buying stuff makes sense when you are on a trip to China: you can buy something for your family or friends, but not too many things. If you have no-one to bring you some product from China, it's better to order it from a local online shop", Pichugina says.
Participants in the December 2012 Online Retail Russian forum agreed that the opening of Russian online shopping hubs in the Far East could become a new trend for 2013.
Market experts believe that new retail platforms in the Far East have the potential to change dramatically the structure of the demand for Asian goods in Russia and cut the number of orders of electronics directly from China. Once they have a choice, better-off buyers will prefer localised products (for instance, laptops with Cyrillic keyboards). Furthermore, development of Far Eastern chains will result in lower prices, because carriers will be paid for large consignments rather than separate items. Products enjoying a strong demand will always be available at the warehouse.
Russian retailers have a competitive edge, as they know their market and know what their customers want. Every region has its unique preferences in terms of colour, size and shape; moreover, it is easier to contact a Russian shop to get advice. Chinese companies do not provide consultations in Russian yet.
All rights reserved by Rossiyskaya Gazeta.