Grand plans for Russian military aviation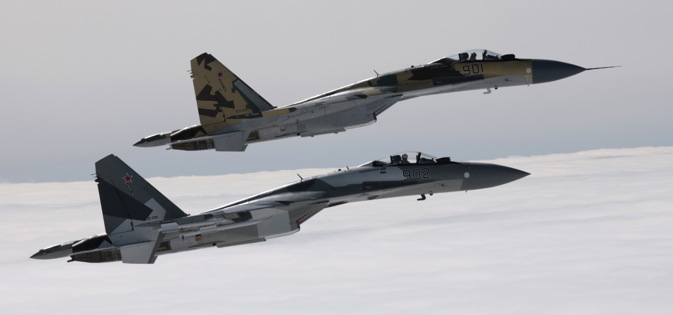 Deliveries of the Sukhoi-35 fighters, whose characteristics put them very close to fifth-generation aircraft, have started. Source: Sukhoi.org
President Vladimir Putin quantifies his strategy for the Russian Air Force in the next decade. 5 trillion roubles to be spent on rearming the air force.
The armed forces and the military industrial complex must listen to each other and keep their sights on the future, rather than the existing weaponry, Vladimir Putin told a meeting dedicated to the development of combat aviation at the Novosibirsk Aircraft Plant.
"History will not provide us with another opportunity to accomplish, within the required time-frame, with the necessary quality, and while the money is available, the large-scale tasks that face our country in the area of securing its ability to defend itself," Putin warned.
The president reminded those in attendance that combat aviation would have to be almost entirely overhauled. "The characteristics of new equipment must exceed the world's best offerings," he said. "If we choose today's equipment as something to aspire to, then tomorrow we will fall behind, and tonight we will have to think about re-equipping again," the president said, painting a grim picture. "It is necessary to think forward, at least several steps ahead," he explained.
Deliveries of modern aviation equipment to the armed forces have already started, Putin said, adding that he meant the deliveries of serially manufactured products. He recalled that 25 percent of financing for state defence orders, worth 5 trillion roubles, would be spent on rearming the Air Force. "The plan is to purchase almost 2000 aircraft and helicopters," he said. This should help increase the share of modern aviation equipment in the Armed Forces to 70 percent by 2020. "Unfortunately, it currently stands at around 20 percent," the president commented.
Companies in the arms industry must also undergo a deep technological retooling. Putin is confident that increasing output while simultaneously revamping production facilities is a difficult but totally feasible task. The Novosibirsk Aircraft Plant is a good example of this. "If they can do this, then others can too," Putin said.
The president proposed discussing maintenance too, because it determines the equipment's combat capabilities, service life and flight safety. He believes that maintenance obligations should be included in existing equipment supply contracts for the entire service lives of aircraft and helicopters.
Putin inspected the Novosibirsk Chkalov Aircraft Plant factory where the multirole Sukhoi-34 bomber is assembled. According to United Aircraft Building Corporation head Mikhail Pogosyan, six out of 14 planes scheduled for delivery this year are undergoing final assembly. Deliveries will start in May this year.
According to a plant spokesman, contracts for the delivery of more than 100 aircraft through 2020 have been signed. Serial production has shaved 250 million roubles off the price of each Sukhoi-34, which cost more than one billion roubles apiece.
What equipment we are expecting
The implementation of the state armament programme will help accomplish a large-scale and quality re-equipment of Russia's Air Force with new-generation technology by 2020.
Bombers
Two fully fledged Sukhoi-34 bomber squadrons have already been formed. This plane is different from all of its global peers in that it combines perfectly the capabilities of an assault frontline bomber, a long-range interceptor and a heavy fighter on par with the Sukhoi-27 in terms of manoeuvrability.
Fighters
Deliveries of the Sukhoi-35 fighters, whose characteristics put them very close to fifth-generation aircraft, have started.
The Prospective Airborne Complex of Frontline Aviation (PAK FA), code-named T-50, is successfully nearing the completion of certification tests. The Air Force will receive the first batches of a fully fledged Russian-made fifth-generation fighter by 2020.
Carrier-based aircraft, military cargo planes and helicopters
The Russian Ministry of Defence has signed contracts for the purchase of the Sukhoi-34 and Sukhoi-35 jets, as well as for the newest carrier-based MiG-29K/KUB, the Il-476 airlifter, the Yak-130 advanced jet trainer, the Mi-28N and the Ka-52 helicopters, and other aviation equipment.
The Ka-52 'Alligator' is joining the Armed Forces together with the Mi-24N. The Ka-52 is the world's only combat helicopter with an active system of defence against portable Stinger-type anti-aircraft missiles and a catapult and parachute crew rescue system. A carrier-based version of this machine is reportedly getting ready for production and will be used at Russia's Mistral helicopter carriers.
Aircraft weapon engineers are finishing the development of new-generation missiles capable of efficiently destroying all kinds of airborne, surface and floating targets.
All rights reserved by Rossiyskaya Gazeta.