Kudankulam: Suspicious money transfer made to activist from London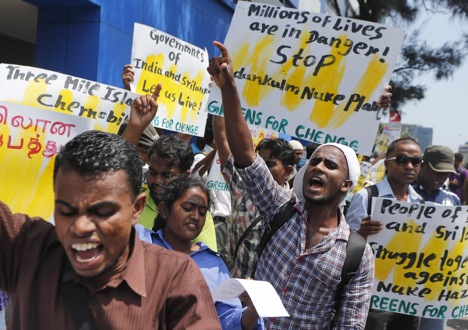 Indian authorities have long suspected that protestors have been funded from abroad. Source: AP
Around $55,000 wired to the wife of anti-KNPP activist from the UK. Accused claim money was sent for purchasing property.
After repeated denials for over a year from fishermen and farmers who were opposing the protest against the Kudankulam Nuclear Power Project (KNPP) that they were being funded from overseas, the police in the southern Indian town have opened a case against a "suspicious money transfer" from London, the Hindu reported on its website.
According to the report, the police said T. Ambika, wife of anti-KNPP activist Kumar alias Thavasi Kumar, recently received around $55,000 in her account with Canara Bank's Kudankulam Banch from a particualar Anand based in the United Kingdom. Officials from the bank let the police know about the deposit in the account. The police then started an enquiry about the money being sent from a foreign destination to one associated with the ongoing anti-KNPP struggle, the paper said.
Thavasi Kumar told the police that his London-based friend had sent the money for purchasing property, but the police filed a case under Section 102 of Criminal Procedure Code, according to the Hindu. Under this section, the police can seize any property which may be alleged or suspected to have been stolen or which may be found under circumstances that create suspicion of the commission of any offence, the paper said.
The Indian central government, the Tamil Nadu government and Indian investigating agencies have been informed about the case, according to the report. Kumar was arrested under the "Goondas Act," but was later released. Goonda is a Hindi word for thug.
An activist with the so-called People's Movement Against Nuclear Energy (PMANE) denied that the money was meant for the protests. "We are not fools to have such a big amount sent by sire transfer from the UK," he told RIR. The activist refused to comment when this reporter questioned him about the outfit taking foreign funds through illegal channels.
The construction of the first two units of the power plant was halted in September 2011 over protests by local residents who demanded the scrapping of the Indo-Russian project citing the Fukushima nuclear disaster in Japan. Protesters had blocked all roads to the plant and would not allow the workers to enter. The work resumed in March 2012.
According to the latest media reports, the first unit of the KNPP is now expected to be commissioned by April.
All rights reserved by Rossiyskaya Gazeta.