Russia wants to strengthen influence of BRICS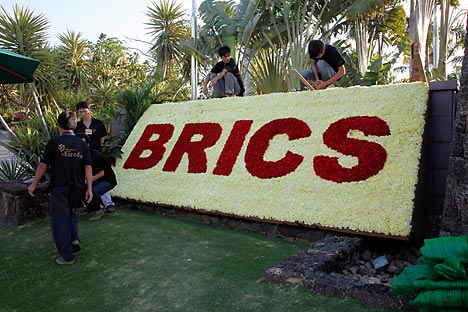 Russian experts suggest that economic integration between BRICS member countries is clearly insufficient. Source: Getty Images / Fotobank
The initiative calling for a more influential BRICS has been formulated in a report prepared by Russian experts for the next summit in Durban on March 26.
Russia suggests strengthening the influence of BRICS that embraces Brazil, Russia, India, China and South Africa. The initiative has been formulated in a report prepared by Russian experts for the two-day summit of the grouping that will start in Durban on March 26.
Experts insist on the need to setting up a permanent secretariat, originally virtual and then a full-pledged one. Last year, India suggested creating a new development bank. The authors of the report proposed to set up the headquarters of the bank with an authorised capital of $50 billion in Moscow. Last spring, the partners of the BRICS summit in New Delhi decided to trade in local currencies and replace the United States dollar as the main unit of trade between them. In view of this, Russian experts propose to create a bank for international settlements to assure safety to the economies of BRICS member countries from sharp fluctuations of the exchange rate of the dollar and the so-called "currency-wars." Russian experts have also proposed to set up an anti-crisis fund of $240 billion amidst the second wave of the global financial crisis.
The Russian initiatives are aimed at strengthening integration, says Andrei Volodin, expert at the Diplomatic Academy of the Russian Foreign Ministry. The reason here is that at present, economic integration between BRICS member countries is clearly insufficient.
Russian experts in economic integration suggest supplementing it by the joint work in security area. Among these are fighting against the spread of weapons of mass destruction, cybercrimes, drug trafficking and piracy. It has been proposed to admit an Islamic country, Indonesia or Turkey, to upgrade the organization's humanitarian and inter-civilisational potential.
The report also pays attention to the contradictions within the BRICS. Its authors describe territorial disputes between China and India, competition for raw material resources and differences in the approaches towards climate change as time bombs. Russia can use its prestige to convince its partners to ease strain amongst themselves. Co-chairman of the Council for National Strategy Iosif Diskin agrees with the experts.
"Russia's partners have displayed keen interest in its active economic and foreign policy position and Russia has a unique possibility of multiplying its economic and political influence," says Diskin. However, no one should forget that the West sees its rival in BRICS. Consequently, it will try not to give an opportunity to strengthen the five countries on the international scene. The report prepared by Russian experts for the government is aimed at hampering such a development. It will be the basis of the drafting of Russia's national strategy in the framework of BRICS.
All rights reserved by Rossiyskaya Gazeta.