Science and Technology cooperation to grow between India and Russia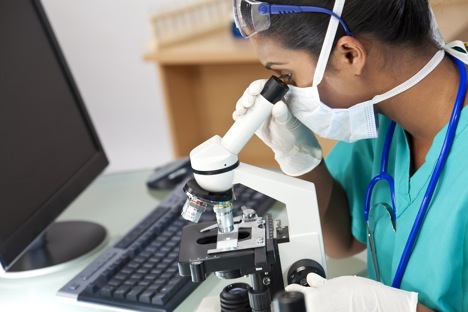 There are innumerable prospects for the scientific communities of the two countries engaging at various levels. Source: PhotoXpress
There is a gamut of bilateral links and inter-governmental mechanisms in diverse science and technology sectors beyond defence and nuclear power.
In the fields of science and technology, India's Integrated Long-term Programme of cooperation (ILTP) with Russia has proven to be exhaustive and effective. The programme, launched in 1987, led to generation of knowledge, products, and facilities through hundreds of joint projects. The development of India's first indigenous oral polio vaccine is one of the significant accomplishments under ILTP, which has benefited millions of people. Support and training from Russia has been a key factor in the success of the vaccine production facility, Bharat Immunologicals and Biologicals Corporation Ltd, at Bulandshahr in Uttar Pradesh.
The ILTP programme is coordinated by the Department of Science & Technology (DST), Government of India and the Ministry of Industry, Science and Technology of the Russian Federation jointly with the Russian Academy of Sciences. One of the mandates of DST is to "foster international cooperation." The department's official report for 2011-12 states that "cooperative activities continued under ILTP Phase I and the DST-RFBR program, under which over 100 joint R&D projects were supported this year in areas covering basic and applied sciences. Fresh call for proposals was made this year and 85 new proposals have been received which are being assessed. New initiative for cooperation was signed to provide technology solutions for fly ash utilization in the Siberian region of Russia."
The association between DST and RFBR (Russian Foundation for Basic Research) was established in 2007 for funding joint research projects and seminars in the areas of Basic Science including Mathematics, Mechanics and Informatics; Physics and Astronomy; Chemistry; Biology and Medical Sciences; Earth Sciences; Telecommunications and Computer Sciences; and Fundamental of Engineering Sciences. This association has launched 100 projects ever since and about 20 joint workshops have been organised. Another pilot project call was issued in November 2012 for goal-oriented interdisciplinary research proposals.
Dr Sanjeev Kumar Varshney, Director, International Cooperation, DST points out what has worked for these Indo-Russian associations – "consistent measures taken by the two sides identifying new areas of cooperation, within the framework of the meeting between the leaders of our countries, have given a new momentum and impetus to the stronger scientific and technological bond. Effective interaction, follow-up and assessment of results on research and development enable both sides to improve upon the activities."
Another success story which Varshney cites is that of the parallel computing system PARAM 10000 designed and developed by Centre for Development of Advanced Computing (C-DAC) installed at the Indo-Russian Centre for Advanced Computing Research at Moscow. Since then, there have been a number of software development projects for applications such as computational fluid dynamics and seismic data processing.
Besides advanced computing and vaccine manufacturing, seven other centres of excellence have been established under the ILTP umbrella; these include powder metallurgy and new materials, biotechnology, gas hydrates, earthquake research, ayurvedic research, biomedical technology, and non-ferrous metallurgy. The programme was extended in 2000 with an additional objective of technology transfer to industry. It was extended a second time in 2010, upon the recommendation of the Indo-Russian Working Group for Cooperation in Science & Technology with a focus on "innovation led technology growth." To ensure operational effectiveness, Indo-Russian Science and Technology Centre with branches in Moscow and Delhi have been set up in the last two years.
DST has also facilitated an institution level mechanism for fostering exchange of knowledge and scientists through Indian National Science Academy (INSA,) which is one of India's premier scientific professional bodies. In 2001, INSA joined hands with Russian Academy of Sciences for Inter-Academy Exchange Programme.
Another such collaboration opportunity is presented by Dr Dimitry Kamanin, Senior Research Scientist and Head, International Cooperation Department, Joint Institute for Nuclear Research (JINR), Dubna, Russia—"we would like India to become an associate member of the institute," he proposes. Both DST and JINR have indicated positive signals for this, however the bureaucratic process is yet to be finalised. Kamanin believes that it will be mutually favourable, "we would benefit from India's vast pool of young and talented scientists while India will have an opportunity to be a part of our prestigious Nuclotron-based Ion Collider Facility."
Kamanin was in New Delhi for a workshop by the International Centre for Scientific and Technical Information (ICSTI.) India has been a member of this Moscow based intergovernmental organisation since 2001. ICSTI facilitates cooperation in science, information exchange, technology transfer and innovations amongst its 22 member countries. Speaking at the same workshop, Dr Vladimir Fokin, Deputy Head of Department, ICSTI, provided an overview of nanotechnology sphere in Russia. He said that "Russia is ready for collaborating with India, especially in the fields of material sciences and equipments for nanotechnology." Also present at the occasion Dr S Ahmad, Senior Advisor-Nanotechnology, Confederation of Indian Industry, solicited "collaboration and cooperation in green nanotechnology initiatives." In this field, RUSNANO and SUN Group are already working jointly to enable cooperation between Russian and Indian companies engaged in global technology chain.
Besides such an exhaustive bilateral scenario, an emerging avenue to extend cooperation in science and technology to a multilateral dimension is the BRICS framework. Andrey Shelukhin, Counsellor (Science & Technology), of the Russian Embassy in New Delhi, provides a perspective "The leaders of Russia and India consider research and innovation is the key to a better future for a developing world, but limited resources and new wave of the economy crises demanded a new form of cooperation—BRICS became that one, while such cooperation would also be dependent on the resources each country could commit."
With so many intergovernmental mechanisms working synergistically, there are innumerable prospects for the scientific communities of the two countries engaging at various levels.
All rights reserved by Rossiyskaya Gazeta.