India, Russia in talks over another nuclear submarine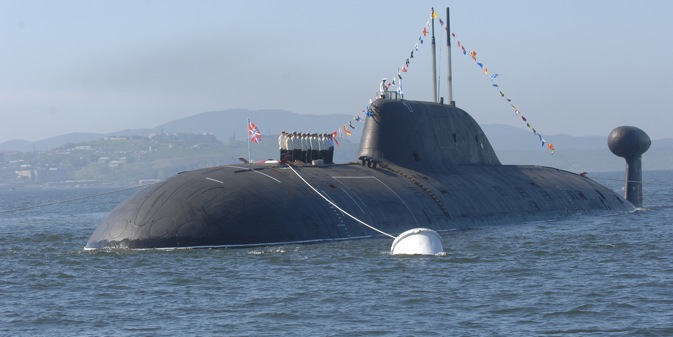 The partly-completed Project 971 (Class Schuka-B) vessel may become the Indian Navy's second nuclear submarine. Source: ITAR-TASS
After the Nerpa or INS Chakra, the partly-completed Project 971 vessel would be the Indian Navy's second nuclear submarine from Russia.
India is in talks with Russia to finance the completion of a nuclear submarine for the Indian Navy, a senior Russian military official told RIA Novosti on Tuesday. After the Nerpa, which is being leased by India, the partly-completed Project 971 (Class Schuka-B) vessel would be the Indian Navy's second nuclear submarine.
In 2012, Russia leased out the Nerpa (now called the INS Chakra) to India for a 10-year period for $930 million. Thanks to India's financial support, the submarine was completed at the Amur shipyard and then leased to the national navy.
"India has expressed interest in completing the next vessel. The robust hull of the second sub is ready and waiting on the stocks of the Amur plant. It is being well looked after," said the military spokesman. At the same time, he stressed that the completion of the second nuclear submarine requires an inter-governmental agreement between India and Russia. "The issue is being worked out. As in the first case, it might be leased out, not sold," said the source for RIA Novosti.
India has yet to comment on the matter publicly.
The Nerpa belongs to the third generation of submarines. It was berthed at the Amur shipyard in Komsomolsk-na-Amure in 1991. However, in the mid 1990s, funding was frozen and the vessel could only be completed with India's assistance.
The submarine has a displacement of 8140/12770 metric tonnes, a top speed of 30 knots, a maximum depth of 600 metres, an endurance of 100 days, a crew of 73 people, and is armed with four 533-mm torpedo launchers.
With the lease of the Nerpa, India became the sixth operator of nuclear submarines in the world, after the United States, Russia, France, Britain and China.
India's domestically-designed INS Arihant nuclear submarine is expected to be ready for operational deployment this year after final sea trials.
All rights reserved by Rossiyskaya Gazeta.