Foreign banks banned from opening branches in Russia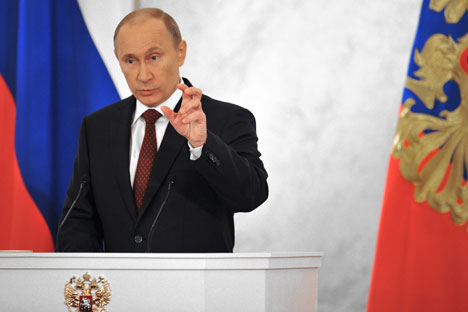 Russia's regulatory authorities and the government had supported the idea of removing branches of foreign banks from the country for years. Source: RIA Novosti / Mikhail Klimentyev
Law leaves doors open for foreign based financial institutions to operate in Russia through subsidiaries and representative offices.
Last week, Vladimir Putin signed a law prohibiting foreign banks from opening branches in Russia. The bill stipulates that foreign-based financial institutions only operate in Russia through subsidiaries and representative offices.
Russia's regulatory authorities and the government had supported the idea of removing branches of foreign banks from the country for years. The key rationale was that such entities do not fall within Russian jurisdiction and are not subject to full-scale scrutiny, which means the risks they pose to the banking system are difficult to assess and mitigate.
The Russian government insists that another reason for adopting this measure was the need to give Russian credit institutions a competitive edge. Although the law "On Banks and Banking" gave foreign institutions the green light to open branches in Russia, the Bank of Russia has hardly issued a single permit in the last 10 to 15 years.
"This was because they [the branches of foreign banks] don't keep individual financial records, are not subject to prudential requirements and cannot be kept in check by the local regulator: that is, they are out of control and don't play by the rules set for the other competitors," says a source close to the Bank of Russia.
Foreign bank branches in Russia would greatly increase the systemic risks for the Russian banking system, according to experts. In this case, this group of banks might gain important competitive advantages over their Russian counterparts, as they would be exempt from the requirements established by the domestic regulator. As a result, the foreign presence in Russia's banking sector would widen. "At the beginning of this year, foreign-invested credit institutions owned more than 50 percent of Russia's banking assets," noted Mikhail Kuzmin, Executive Director at the Synergy University's Economic Research Centre. According to him, in a crisis, closure of foreign branches would be large scale and chaotic and this would only exacerbate the situation.
It was common practice for banks from other countries to open branches in Russia in the 1990s. The latest newcomer was the Bank of Azerbaijan, which later evolved into a fully-fledged commercial institution. As of today, no branches of foreign-based banks operate in Russia. All the existing entities carry out their activities as either representative offices or subsidiaries. A source close to the Bank of Russia explained that the new initiative does not change the situation in the banking industry, as the bill was originally developed as part of the strategy for developing the banking sector through 2015 and only sets out the agreements reached during consultations on Russia's accession to the WTO.
All rights reserved by Rossiyskaya Gazeta.