Indo-Russian consortium begins work on Andhra Pradesh dam project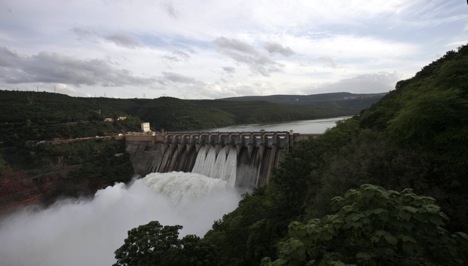 Linking the Krishna and Godavari basins through a dam will help India's drought situation. Source: AP
Low key launch for major project that links the Krishna and Godavari basins and generates 960 mw of power.
An Indo-Russian consortium led by the Indian associate of Russia's Transstroy has begun work on the Polavaram or Indian Sagar, a mega-dam project in the Anguluru Hills in the Indian state of Andhra Pradesh, the New Indian Express said on its website.
Last week, officials of the Transstroy consortium and the Indira Sagar project organised a simple launch with the local farming community performing a "Bhoomi Puja" or traditional prayer ceremony for the $3 billion Polavaram project, the paper said.
The consortium of Transstroy-JSC EC UES was selected in October as the contractor to build the three main components of the $3 billion project. The components are a rock-fill-cum-earthen dam, spillway and penstocks for a 960-megawatt powerhouse.
The Polavaram project is a multi-purpose irrigation project that envisages the construction of a dam across the Godavari River, link the Krishna and Godavari rivers, and develop a vast irrigation system that would cover 15 out of 23 districts in Andhra Pradesh. The project, which would also generate 960 mw of power, was first envisioned by the British Colonial Administration in the 1940s. It should be finished within the next 5 years.
The New Indian Express said the launch of work on the project was kept low-profile. Environmentalists in India have raised objections to the project, which they argue could inundate several villages in Andhra Pradesh and the neighbouring state of Orissa. Well-known Indian environmental activist Medha Patkar has said that the project will not only displace several thousands of families, it will also submerge several archaeological sites, coal deposits, a wildlife sanctuary and several hectares of farm land.
The project comes under India's National River Linking Project, which was designed to overcome the deficit in water in the country by transferring underutilized water to an area that is water deficient. The Godavari River basin has a surplus of water, while the Krishna River basin has a deficit. India often faces a simultaneous problem of floods in one part of the country and drought in another.
All rights reserved by Rossiyskaya Gazeta.