Rosneft's win-win offer to ONGC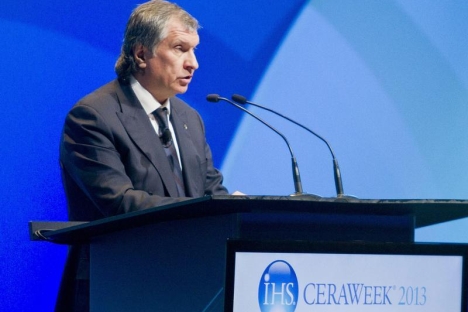 President of Rosneft, Chairman of Rosneft's Management Board Igor Sechin. Source: Reuters
The Indian oil and gas bellwether's overseas arm has done initial evaluation of Magadan's promising offshore oilfields.
Rosneft has invited ONGC to take part in joint development of two offshore areas in the Sea of Okhotsk, which has enough reserves to meet India's oil consumption for eight months. If the deal goes through, the Indian state-owned company will gain access to new oilfields, while Rosneft will raise the investment it needs for geological exploration.
Upbeat on scaling stakes in oil exploration in Russia, Dinesh Sarraf, Managing Director of ONGC Videsh (OVL), has projected that "Russia will be the key point for an aggressive expansion of our project portfolio over the next few years." In a letter to members of parliament in late December, Minister of Petroleum and Natural Gas Veerappa Moily said that the OVL was studying the opportunities offered by the Magadan-2 and Magadan-3 offshore areas in the Sea of Okhotsk. OVL representatives have since visited the oilfields and conducted a preliminary evaluation, which, according to Moily, concluded that the risks were high.
India is forced to take the risk because it currently imports up to 80 percent of its crude oil and is constantly on the lookout for more sources. Magadan-2's recoverable reserves are estimated at 78.9 million tonnes of oil, and Magadan-3 is estimated to have 31 million tonnes of oil and 105.5 billion cubic metres of natural gas.
The offshore areas of Magadan, Kamchatka, and Sakhalin are considered quite promising. Similar areas in the North, Norwegian, and Kara Seas, as well at the northern Alaskan incline, have yielded good results. Yet the areas offered to OVL have hardly been studied at all. Working conditions there are extremely harsh, second only to the Arctic. This implies high costs. The price of drilling a single exploration well is estimated at $150 million plus infrastructure – ten times more expensive than on the mainland, says Sberbank SIB analyst Valery Nesterov. Anyone joining the project should realise that the minimum exit price would be at least $200 million. If initial drilling yields good results, geological exploration could be expanded to $1 billion.
On February 1, Russia's Prime Minister Dmitry Medvedev signed a decree granting Rosneft 12 offshore licences without tender for 5.37 billion roubles. The company now holds 29 offshore licences with estimated reserves of 190 billion barrels of oil equivalent and has filed for 14 more. This means that Rosneft's current partners could probably count on expanded cooperation in new oilfield development, the expert added.
OVL owns 20 percent of the Sakhalin-1 project, as well as the Imperial Energy production company, which OVL bought in January 2009 for almost $2 billion. Oil output there may have reached 635,000 tonnes last year and is unlikely to increase in 2013.
Foreigners are routinely invited to join Russian offshore projects. They get 33.3 percent stakes each and pay for geological exploration.
Last May, OVL asked Rosneft to let it participate in one of the projects already under development by ExxonMobil, ENI, and Statoil at the expense of Rosneft's share in it. If this is denied, the Indian company has expressed interest in one of the 12 future projects, and has even agreed to take an 8 percent stake.
All rights reserved by Rossiyskaya Gazeta.