Russia-India oil, gas pipelines in the works?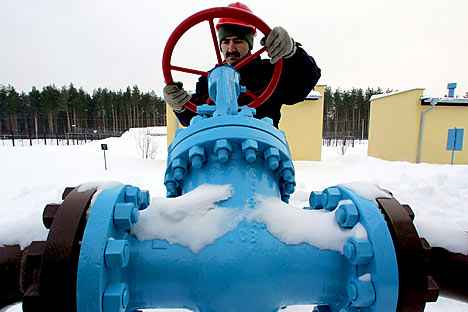 Political risks threaten both oil and gas projects, but experts believe they would be economically feasible. Source: Reuters / Vostock-Photo
ONGC proposes oil pipeline bringing Russian oil to India via Afghanistan and Pakistan, GAIL calls for gas pipeline via China.
India's Oil and Natural Gas Corporation (ONGC) plans to invite Russia to build an oil pipeline through Afghanistan and Pakistan to India. In addition, the country's largest gas company, GAIL, has proposed that Russia's future gas pipeline to China be extended to India. Political risks threaten both projects, but experts believe they would be economically feasible.
Delhi is preparing to make Moscow an offer: to construct an oil pipeline to India through Afghanistan and Pakistan. "We are ready to discuss the details with the Russians. The project is economically beneficial to both India and the Russian Federation. Moreover, it will benefit Afghanistan and Pakistan, and when economic prosperity is on the table, differences tend to be forgotten," Vice President of ONGC M.K. Nair was quoted by ITAR-TASS as saying.
ONGC's proposal to run a pipeline from Russia is "one of several prospective projects that can significantly increase the volume of bilateral trade," said the head of the Eurasian Department of the Indian Ministry of External Affairs Ajay Bisaria, speaking at a seminar on 'Strategic Contours of Russian-Indian Trade and Economic Cooperation.' The seminar was attended by a delegation of India's largest natural gas company, GAIL, which proposed in turn that Russia extend its mooted gas pipeline through China to Indian soil. "The idea is being discussed," said the director of the GAIL Department for Quality Management, Siddhartha Sarkar.
"There aren't too many viable options for running an oil pipeline to India. The route through China is mountainous. If it goes through the Himalayas, it will turn into a diamond pipe. The route through Iran is more circuitous. If oil is shipped by tanker through the Black Sea, it will still be several times further. India's proposed alternative route from Russia through Afghanistan and Pakistan is the shortest," Sergei Pikin, director of the Energy Development Fund, told Vzglyad.
The main risks are political. The war in Afghanistan is still ongoing; add to that the high risk of the Taliban returning to power. "But in this part of the world ​​political risk comes with the territory. It's simply a case of carefully selecting the regions where the government is more or less in control of the situation. Plus, there must be a top-level security system in place," remarks Pikin.
"Given the current level of safety, the pipeline project is certainly doable. But what happens after that, no one is sure. In any case, such projects are always insured: the policy will cover terrorist incidents," he told Vzglyad. But India has vast potential. "It is one of the fastest growing regions in terms of energy consumption. The Indian market is potentially huge and yet to be courted," he adds.
As for running a gas pipeline to India through China (instead of Afghanistan), the two countries have a complex relationship involving border disputes and mutual suspicion. "If a significant portion of the pipeline passes through the Middle Kingdom, there is a risk that it could be used to exert pressure on India," says Dmitry Abzalov, a leading expert at the Russian Center for Current Politics.
A comparison of the oil and gas pipeline projects shows that both are fraught with political risks. But in this region, an oil pipeline would be more competitive. "Pipeline gas is unlikely to survive the flood of LNG onto the global market, so I have reservations about the feasibility of constructing a gas pipeline to India. Qatar, the largest producer of LNG, is literally just a few blocks away from India," notes Pikin.
"Whereas the region's oil reserves have been prospected with no new fields on the horizon, India's waters from Australia to the Arabian Peninsula are bubbling with gas. Gas production and liquefaction are only set to grow in the region, not to mention the shale revolution. Gas competition here will be fiercer than oil," Pikin adds.
The technical matter of choosing an oil or gas pipeline is not of principal concern, believes Pikin. "The main issues to be resolved are territorial and financial, namely: how much will it cost to build, depending on the route, and what price will the end consumer be willing to pay," he sums up.
The region is no stranger to pipeline projects. The Pakistani authorities recently approved the construction of a gas pipeline from Iran (the Peace project), which is vehemently opposed by the U.S.
For its part, India has long advocated the politically forward-looking Trans-Afghan Pipeline (TAPI) project, which would supply gas from Turkmenistan via that AfPak route to India. The project has been actively discussed since the 1990s. If built, it would stretch 1700 km with a capacity of 30 billion cubic metres of gas a year. Russia has been invited to take part in all the projects.
First published in Russian in Vzglyad.
All rights reserved by Rossiyskaya Gazeta.