MTA to enter global market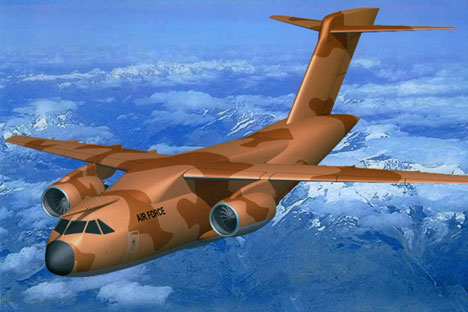 It is forecast that 205 aircraft will be manufactured, of which 30% are to be sold globally. Source: Press Photo/UAC-TA
The latest stage of the Multirole Transport Aircraft (MTA) project is presently being implemented by a Russian-Indian joint venture. As soon as the first prototypes are ready, Rosoboronexport will join the project to bring it to the global market.
"We have received a legal order and financing for the MTA from the Russian-Indian JV. Russia and India have an equal participation in the venture. Both countries have invested $300 million each, making a total of $600 million," deputy general director of JSC Rosoboronexport and head of the joint delegation of state corporation Rostech and JSC Rosoboronexport Viktor Komardin told reporters at the LIMA-2013 Arms Exhibition.
He said that on the Russian side the aircraft would be developed by Ilyushin Aviation Complex. As soon as Ilyushin creates, tests, and presents a working prototype, the JV will commence production. The aircraft is due to be built in both India and Russia. "Here, Rosoboronexport will play a big role," said Komardin.
It was reported earlier that this year would see India and Russia sign a full-scale contract on the test development of the MTA. In 2012, India's HAL Corporation and Russia's Ilyushin agreed and signed a contract on the joint development of a blueprint of the aircraft.
Russia and India set up a JV to design and develop the medium-payload MTA. Its founders were India's HAL (50%) and Russia's United Aircraft Corporation (25%) and Rosoboronexport (25%). The headquarters of the JV will be based in Bangalore.
The Russian version of the aircraft is due to be fitted with PS-90A-76 engines each with a thrust of 14.5 metric tons. It is not yet known which engines the Indian version of the MTA will feature.
Production facilities will be located in both countries. The Indian Ministry of Defence plans to pre-order 45 aircraft, and the Russian Air Force is expected to purchase approximately 100. At the initial stage, it is forecast that 205 aircraft will be manufactured, of which 30% are to be sold globally.
The maximum take-off weight will be 55-60 metric tons. The vehicle will be able to carry different loads of at least 18.5 metric tons. It will be fit for use at high-altitude aerodromes and operational in hot climates.
First published in Russian in VPK.
All rights reserved by Rossiyskaya Gazeta.