Russia eyes foreign co-investors for Siberian exploration projects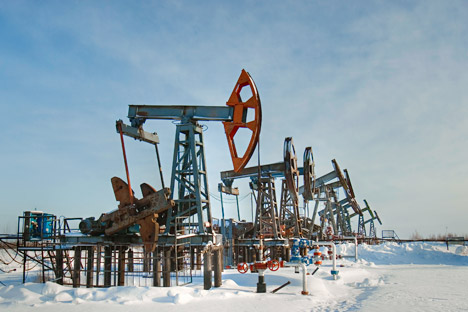 Foreign investors would be given easier access to Russian deposits. Source: ITAR-TASS
Moscow is planning to give foreign investors easier access to deposits in remote regions of the country. Experts say the best possible scenario for foreign companies to invest in exploration is to set up a joint venture with Russian counterparts.
Moscow is increasingly interested in expanding its engagement with foreign investors in the exploration of its mineral deposits. In February, talks were held with Asian investors over shelf exploration of the Russian northern seas. Russia's Ministry of Natural Resources has announced plans to ease the access of foreign investors to exploration projects. Natural Resources Minister Sergey Donskoy talked about these plans in late February. Russian deposits are currently grouped into a number of categories. Large deposits have federal status – a list of these deposits was made in the summer of 2008 and included almost 1000 surface sites (including 163 deposits containing hydrocarbons). Federal status was also given to internal sea waters, territorial sea and Russia's continental shelf, as well as the sites that are strategically important for defence and security. Under the applicable legislation, federal resources include deposits containing uranium, diamonds, pure quartz materials, nickel, beryllium, tantalum, lithium, niobium, rare yttrium group elements and platinum group metals. Furthermore, they include deposits with at least 60 million tonnes of recoverable oil reserves, 75 billion cubic metres of natural gas reserves, 50 tonnes of vein gold and 500,000 tonnes of copper. Only Russian companies with state stakes of more than 50 percent are entitled to explore deposits on the continental shelf of the Russian Federation. In February, the ministry said that foreign investors would be given easier access to Russian deposits. According to Sergey Donskoy, there are plans to abolish 'federal' status for the deposits in remote regions, especially in Eastern Siberia and the Far East. The ministry has also submitted a proposal to automatically convert exploration permits into production licenses. Up until now, this has been impossible if a strategic deposit was discovered as a result of prospecting. Analysts recommend that those who want to take advantage of the new rules and explore Russian deposits study the unique features of Russian mining and develop a sound strategy for entering the market. Denis Borisov, Oil & Gas Centre research director at Ernst & Young Moscow, is certain that if more liberal procedures are introduced, the competition for new Russian assets will be quite strong. "As a result, even if current barriers are lifted, foreign companies are unlikely to be allowed to have 100 percent in oil projects; therefore, they will have to look for partners among Russian vertically integrated oil companies," he told RIR. The applicable legislation doesn't allow areas and reserves within a single licensed site to be split. Russia keeps to the 'one license – one licensor – one development plan' principle. That is why the best scenario would be to set up a joint venture. This option will not call for sophisticated legal procedures and will not cause regulators to ask additional questions, because there have already been precedents. Borisov mentioned the Naryanmarneftegaz project between the privately owned Russian oil major LUKOIL and the US ConocoPhillips, in which the co-investors own 70 percent and 30 percent, respectively. Another option for cooperation is to purchase a shareholding in operating companies. But the acquisition of an oil company in Russia is likely to entail lengthy procedures with Russian state regulators, as well as many moves to integrate the acquired assets into a group, according to Aforex analyst Narek Avakyan. He cites the example of Renault-Nissan's purchase of AVTOVAZ automotive giant, a process that started several years ago. Analysts recommend that investors should not be put off by the high tax rates in Russia. Avakyan believes that Russia's main advantage is its concessional tax rates and support from the country's administration. As far as new projects are concerned, the state will likely grant tax preferences for the resulting internal rate of return to reach 16.3 percent, meaning that investor worries about the drawbacks of the Russian tax system (especially the practice of taxing revenues rather than profits) are ungrounded, Borisov says.
All rights reserved by Rossiyskaya Gazeta.