Rosneft eyes Asia expansion, LNG liberalisation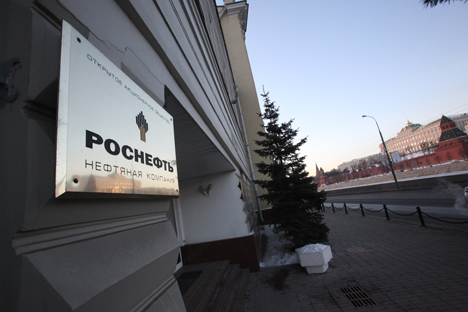 Rosneft and Gazprom between them hold 80 percent of all licences for Russia's Arctic shelf. Sourse: ITAR-TASS
Besides seeking Asian partners to jointly develop the country's northern shelf, oil-giant Rosneft is eager to enlist foreign support in its on-going battle with Gazprom for the liberalisation of Russian LNG exports.
Rosneft CEO Igor Sechin toured South Korea, China and Japan in mid-February 2013, meeting local political figures and the management of leading national corporations. The only document signing took place in China, where Rosneft signed a memorandum with Sinopec on considerably increasing Russian oil supplies to that country.
Russian Deputy Prime Minister Arkady Dvorkovich later discussed the memorandum in greater detail at a meeting of the Russian-Chinese intergovernmental commission on energy cooperation. According to Dvorkovich's spokesperson, Rosneft could boost its current crude supply to China by up to 9 million tonnes. Dvorkovich also implied that China might grant Rosneft a loan to implement the new agreement. Rosneft had earlier dismissed a Reuters report that Beijing could lend the company $30 billion in exchange for doubling the existing crude supplies. At present Russia supplies China with 15 million tonnes of crude per year along the East Siberia – Pacific Ocean (ESPO) pipeline. The ESPO throughput capacity is set to be doubled in the future. In the meantime, Rosneft could resort to a swap scheme, supplying 7 million tonnes of crude a year to Kazakhstan's Pavlodar refinery, in exchange for which Kazakhstan's KazMunaiGaz state company would despatch the same volume of crude to China via the Atasu-Alashankou pipeline section.
Russia is keenly interested in boosting oil exports to China because the current export volumes are not sufficient for the implementation of several joint projects. Back in 2010 Rosneft and PetroChina, a subsidiary of China National Petroleum Corporation (CNPC), set up a 49:51 joint venture to build a refinery in Tianjin. The $3 billion facility with an annual capacity of 10 million tonnes was originally planned to become operational in 2012. The JV expected to make profit not only from crude processing but also through petrol retail via a network of 300 filling stations across China. According to Dvorkovich's spokesperson, the extra crude that Rosneft plans to supply to China is meant specifically for the Tianjin project.
Oil, incidentally, was not the most important topic on the agenda of Sechin's Asian tour. The trip turned out to be largely about advertising shelf projects in the Russian Arctic and promoting international cooperation in the liquefied natural gas (LNG) industry. These two topics dominated the discussions in each of the three countries on Sechin's itinerary. In South Korea, he showcased the Russian market opportunities to the LNG specialist KOGAS and to the world-leading shipbuilder STX, which specialises in shelf equipment. His audiences in China included CNPC, SINOPEC and CNOOC. In Japan, Sechin made presentations for the oil and gas producer Inpex, for the petroleum exploration company Japex, and for the Sakhalin Oil & Gas Development Co (SODECO), as well as for Rosneft's current Sakhalin-1 partners Itochu and Marubeni.
Rosneft and Gazprom between them hold 80 percent of all licences for Russia's Arctic shelf. Under Russian law, private companies can only compete for those licences which have been given up by the two state-controlled majors, who originally obtained them bypassing the tender-based bidding process. Even before the government started awarding shelf licences to the industry giants, it was understood that Rosneft would gain control of the oil-bearing structures whereas the gas-bearing ones would go to Gazprom, says Sberbank CIB analyst Valery Nesterov. It quickly transpired though that the shelf could not be carved up this way; its structures were poorly explored, and the proven reserves were expected to be made up of natural gas by between 50 percent and 70 percent. As a result, according to Sechin, the Rosneft-controlled structures have been found to hold 21 trillion cubic metres of gas, and those structures already being developed in Kara Sea hold 11 trillion cubic metres of gas.
Shelf hydrocarbons are expensive to extract and will be impossible to sell domestically. The Russian Economics Ministry forecasts that gas prices on the Russian domestic market will not rise to $150 per 1,000 cubic metres until 2015, although the world prices currently stand at $350. In Europe, which currently consumes 70 percent of all Gazprom exports, demand for natural gas is declining steadily. According to a forecast of Institute of Communications and Computer Systems of the National Technical Institute of Athens, commissioned by an EC Directorate-General, by the year 2030 annual natural gas consumption in Europe will have dropped to 545 billion cubic metres from almost 570 billion in 2010.
ВР and ExxonMobil, for their part, predict that the natural gas market will boom before 2030. The International Energy Agency says China will be the greatest consumer (634 billion cubic metres a year), and that the country's annual natural gas imports are set to reach 200-300 billion cubic metres. China will account for 56 percent of overall Asian growth in natural gas consumption.
Russia is increasingly turning to Asia for its hydrocarbons exports. According to Sechin, the only way to cash in on the country's Artic gas reserves is to liquefy and export them. Sberbank CIB's Nesterov says the window of opportunity to sell Russian LNG to Asia will be in 2018-22; if Russia fails to carve a market niche during that period it will be driven away by Australia, East Africa and the Middle East.
Gazprom, which holds monopoly to Russian gas exports, has its own interests on the LNG market. The giant's policy is stifling the development of smaller independent producers, who are finding it impossible to acquire financing for their projects. Gennady Timchenko, co-owner of Russia's second largest gas producer Novatek which is involved in the Yamal LNG project, told Forbes last autumn that Gazprom's exporting arm Gazprom Export "has not signed a single contract with consumers yet [for the Yamal gas], nor has it given us any promises" to that effect. Novatek at the time initiated the drafting of an Energy Ministry bill on liberalising the LNG market. Rosneft's Sechin joined the fight against Gazprom's monopoly in early 2013; in mid-February President Vladimir Putin appeared to back the drive by making the first-ever public mentioning of the possibility to "gradually liberalise the LNG market." According to Dvorkovich, the government could come up with a solution by the end of March. He noted however that possible liberalisation steps should not result in LNG and traditional natural gas competing head-on on the same markets.
Russian Energy Minister Alexander Novak has previously stated that deregulating the LNG market was possible both on the level of individual projects and geographic locations. Nesterov believes the government will introduce amendments to support individual independent projects while formally preserving Gazprom's LNG monopoly. This however will require Rosneft to have such LNG projects ready to hand. This is actually what Sechin's Asian mission appears to have been all about: one such possible project could be Rosneft's joint LNG production facility with ExxonMobil as part of the Sakhalin-1 project. The two companies are aiming their effort at the Japanese market, which has been extremely LNG-thirsty following the Fukushima nuclear disaster. ExxonMobil is one of the few foreign companies, alongside Eni and Statoil, which participate in the development of Russian Arctic shelf. The US-headquartered corporation is planning to invest $3.2 billion in the development of Rosneft's oil deposits in the Kara and Black seas.
Rosneft is also in talks on LNG exports with China. According to Dvorkovich, the Russian oil giant expects to reach a basic agreement by late March, in time for the planned visit to Russia by China's new President Xi Jinping. Dvorkovich notes however that, although the basic terms and conditions can be defined within weeks, the detailed contractual liabilities will take several months to formulate.
Whatever the case, the very fact that Beijing has signed up to buy 65 billion cubic metres of gas a year from Turkmenistan against the backdrop of protracted and stalling talks with Gazprom, might prove beneficial to Rosneft.
All rights reserved by Rossiyskaya Gazeta.