FTA opens up new avenues for Indo-Russian energy cooperation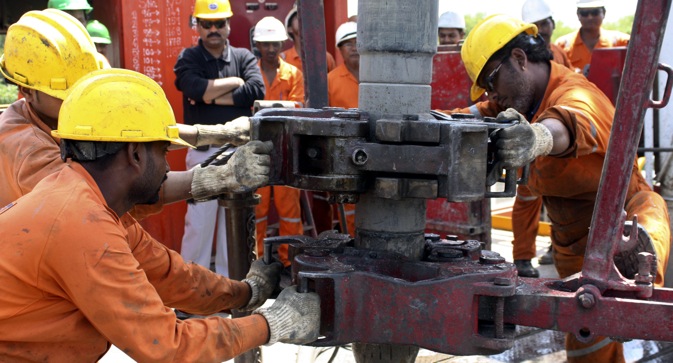 Despite some finds within the country, India is heavily dependent on foreign sources for energy. Source: Reuters
India and the Customs Union of Russia, Belarus and Kazakhstan have placed cooperation in oil and gas high on their agenda as they work towards a Free Trade Agreement.
India's willingness to have a Free Trade Agreement (FTA) with the Customs Union of Russia, Belarus and Kazakhstan has given Russian officials reasons to be optimistic. "We haven't conducted a thorough analysis of the impact that the change in the terms of trade will have on various sectors of the economy," says a member of the Russian negotiation team, which met with Indian Minister of Commerce and Industry Anand Sharma in India's capital recently. Yet energy projects have a good chance of remaining among the top priorities for both Delhi and Moscow, he adds.
Expensive and risky
Indian companies are interested in gaining access to promising oil and natural gas deposits in Russia. India will soon complete the acquisition of an 8.4 percent stake in Kazakhstan's Kashagan Field project from Conoco-Philips, worth $5 billion. Its total reserves are estimated at between 1.5 and 10.5 billion tonnes of crude oil with commercial production expected to start within the next few weeks.
In Russia, new promising deposits are also more likely to be found on the shelf with all the land deposits having been explored, says Valery Nesterov at SIB Sberbank. ONGC Videsh Limited (OVL) is looking into the Magadan 2 and Magadan 3 shelf projects in the Sea of Okhotsk. Reserves in place are estimated at 263 million tonnes of crude oil (recoverable reserves are 78.9 million tonnes) and 261.2 billion cubic metres of natural gas at Magadan 2. Magadan-3 has 103.5 million tonnes of oil in place (31 million tonnes of recoverable oil) and 105.5 billion cubic metres of gas. The two fields are being offered for joint exploration by state-run Rosneft. OVL has got a good chance of gaining access to promising oilfields, while Rosneft will save on investments, says Vitaly Kryukov at IFD-Kapital.
The two projects are quite risky and require substantial investments. An exploratory well costs $100–150 million to drill, and infrastructure costs at least 10 times the amount it is worth on land. If the first few wells show positive results, investments may amount to $1 billion, Nesterov adds. This calls for negotiations over a discount. By the end of April, the Russian Ministry of Energy plans to finalise a package of regulations to cut the tax burden on the shelf projects that will be developed starting 2016. It is planned to exempt the operators of the shelf projects from the export duty applied to crude oil and the import duty and the value-added tax on high-tech equipment.
Another Indian oil project in Russia is awaiting tax preferences for developers of hard-to-recover reserves. One would hardly call the acquisition of the Imperial Energy for almost $2 billion in January 2009 a brilliant investment by OVL. Drilling has almost stopped here. 2012 crude oil production totals may reach 635,000 tonnes and is unlikely to increase this year. "If we discuss an FTA at all, it should cover not only commodities, but also services and mutual investments," a Russian official says.
Dependence on Iran
India is also interested in protecting mutual investments. Russian Atomstroyexport is building Kudankulam Nuclear Power Plant in the Indian state of Tamil Nadu. The first power unit will become operational this month and the construction of the second unit is close to completion. The Russian developer has been authorised to build two more units; however, their prospects look quite vague amid protests staged by groups with vested interests and foreign backing among the local population. Russia is in a good position to expand its presence in the Indian energy market, especially now that the West has imposed tighter sanctions against Iran, according to Deutsche Bank's Yaroslav Lisovolik.
Despite gloomy forecasts, India's Minister of Petroleum and Natural Gas Veerappa Moily has pledged that Delhi will not suspend purchases of Iranian crude oil. However, daily import volumes have already shrunk by 43 percent from last year's level. An increase in the nuclear component in India's energy consumption pattern will make the reduction in crude oil deliveries less painful. Currently India makes up for its short supplies by importing crude oil from Latin America. In the autumn of 2012, Reliance signed a long-term 15-year contract for supplies of crude oil from Venezuela (up to 400,000 barrels a day).
Russian crude oil accounts for a minute share of the Indian market, at 0.44 percent of India's total crude oil import in 2010. Nevertheless, experts believe that as soon as the second spur of the Eastern Siberia–Pacific Ocean oil pipeline (ESPO) has been launched, ESPO blend supplies to the Indian market will soar. The 30 million-tonne-per-year pipeline (its capacity may increase to 58 million tonnes) connects Taishet in Russia's Irkutsk Region with Skovorodino in the Amur Region. From here, 15 million tonnes of oil are delivered to China, and the other half goes to the port of Kozmino in the Primorye territory for further deliveries to Japan, the United States, Indonesia, South Korea, Singapore, the Philippines, Taiwan, Malaysia and India in tankers. In 2011, however, India accounted for just 1 percent of ESPO supplies.
Focus on LNG
Russian LNG supplies to India look more promising. Reuters cited Petronet LNG Chief Executive Ashok Kumar Balyan as saying that IOC, ONG, and Petronet LNG want to buy a 15 percent stake in Russia's Yamal LNG project within two months. Russia's Novatek and France's Total are partners in the Yamal LNG project, with 80 percent and 20 percent, respectively, although the Russian owner plans to reduce its stake to 51 percent.
The project is expected to create infrastructure for the production, processing and export of hydrocarbons on the South Tambey gas field in the north-western part of the Yamal Peninsula, with 1.3 trillion cubic metres of gas reserves. There are also plans to build an LNG plant in the area (with a projected capacity of 5 million tonnes of LNG in 2016, and 15 million tonnes of LNG and 1 million tonnes of condensate in 2018) and a full-service sea port in Sabetta, which will become the main port for supplying Russian LNG, crude oil and gas condensate to Western Europe, North and South America and the Asia-Pacific Region.
The Japanese are also interested in the project, as too are Qatari investors (although they have since been forced to abandon their plans). AKB Lanta-Bank analyst Sergei Statsenko notes that given the balance sheet value of the Yamal LNG assets of $15.2 billion, a $20 billion investment programme will be unfeasible without investors' help. So far, plans to liberalise the LNG market remain vague. Gazprom is the monopoly LNG exporter in Russia, although the government is discussing options for making exceptions for some projects.
Indian corporations seem to have reached an agreement with Gazprom. In October 2012, Gazprom Marketing and Trading inked a contract with India's GAIL for annual deliveries of 2.5 million tonnes of LNG over the next 20 years.
All rights reserved by Rossiyskaya Gazeta.