India bets on E-40 international corridor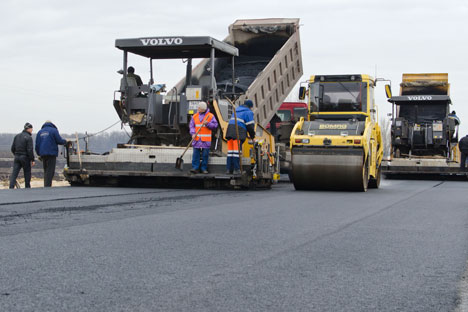 The overall construction costs for the E-40 international transport corridor are about 100 billion roubles. Source: Kommersant
The major East-West corridor would help reduce transportation costs between Russia and India by 30 percent and speed up delivery of goods.
India hopes to increase its transport turnover with Russia via the Astrakhan section of the E-40 international transport corridor (West-East), the Indian Ambassador to Russia Ajai Malhotra said at a meeting with Astrakhan Region Governor Alexander Zhilkin in Astrakhan.
"I think it would be beneficial for both our countries if the artery linking India with Russia via Astrakhan were put into service," Malhotra said, adding that the cost of goods would be reduced by 30 percent and their delivery would take several weeks less. "We are ready to cooperate on this project and I know that your president also supports it. So do we: we want to bring this idea to life," the Indian ambassador said.
Previous reports indicated that the regional authorities estimate the cost of the E-40 international transport corridor (West-East) Astrakhan to be around 30 billion roubles, with the overall construction costs for the highway being about 100 billion roubles.
During the conversation with Malhotra, Zhilkin suggested holding a meeting between the transport ministers of Russia and India in Astrakhan.
The governor highlighted the fact that India was a key strategic partner of the Astrakhan Region, which cooperates closely with the state of Gujarat in a number of areas. In 2001, the two territories signed a memorandum of cooperation, followed by talks held with Gujarat's Cadila Pharma on the implementation of a project to set up a pharmaceutical plant in the Astrakhan Region.
Another Indian company is expressing interest in working with the Russian region in the hydrocarbon area, and the Astrakhan State Medical Academy has extensive experience of providing educational services to Indian students.
During his visit to Astrakhan this week, Malhotra visited the premises of Astrakhan State Technical University and the Astrakhan Chamber of Commerce and Industry. The visit by the Astrakhan Region delegation to Gujarat in January 2013 helped establish initial contacts between Astrakhan University and Pandit Deendayal Petroleum University. A number of practical suggestions for cooperation have already been made and videoconference talks are expected in the future.
Participants in the meeting with the Astrakhan regional government and municipal administration officers discussed the prospects for developing bilateral trade, economic and investment cooperation.
The parties agreed to organise a business mission involving Indian entrepreneurs visiting the Astrakhan Region in the summer of 2013.
The Indian delegation visited several industrial enterprises, in particular, OOO Displair Company and OAO Astrakhanskoye Steklovolokno. In addition, the visitors from India held talks with AstLek, a Skolkovo Foundation resident, on production of innovative pharmaceuticals within the framework of a project implemented by the Skolkovo Foundation. The parties also discussed the possibility for industrial application of herbal pharmaceuticals jointly with partners from India.
All rights reserved by Rossiyskaya Gazeta.