Supportive environment aids trade growth - Anand Sharma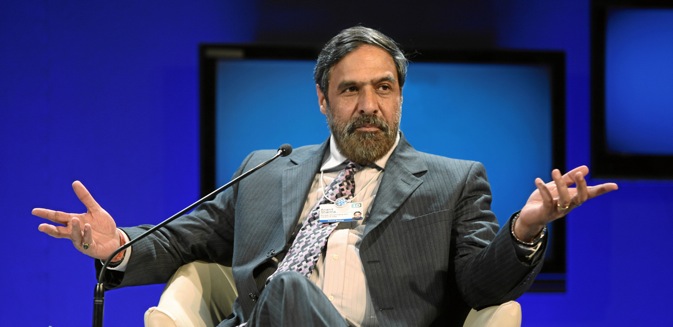 Anand Sharma said India is Russia's 18th largest trading partner and jumped 5 positions up last year. Source: Photoshot
India's Minister of Commerce, Industry and Textiles, was in Moscow over the weekend. At a press-conference at the Ritz Carlton, he shared his views on the most important issues on the Indo-Russian business agenda.
To increase bilateral trade between India and Russia, the governments have to create an enabling and supportive environment, Anand Sharma said on Saturday. "By setting this environment we encourage trade to take place. Ultimately, it is for private investors and public sector units to take advantage of this," he said. "Leaders of business and industry also meet and give their recommendations to the governments. The governments take note of it and take steps that are actionable. It's a partnership between the governments and the business leaders."
After meeting his Russian counterpart Andrey Belousov in Moscow, Sharma said there would be several bilateral engagements in the lead-up to the G20 summit in St Petersburg in September. These include a joint commission meeting at the end of this month to be followed by a trade forum.
Commenting on the meeting with Belousov, Sharma said, the sides looked at "where the trade is during the period of global slowdown." The Indian commerce minister said that during the meetings with the Russian officials they had discussed bilateral relations and identified areas for cooperation such as infrastructure development, mining, pharmaceuticals, communications, information technology and energy. "Apart from conventional defense cooperation here we're looking at cooperation in outer space and nuclear energy," Sharma said.
When asked about India's negotiations on a comprehensive economic cooperation agreement Sharma said such an agreement would lead to a decrease in export tariffs and benefit the exporters of all four countries. He however does not expect any agreement to be signed on the sidelines of the St Petersburg Economic Forum, where further discussions will be held between the two sides. "Comprehensive agreement includes trade, investment and services. India will be one of the first few countries after New Zealand and Vietnam with which Russia is discussing such an agreement," he said.
The Indian commerce minister also said that India was looking at expanding energy cooperation with Russia. "We intend to expand our cooperation in the energy sector. We already have an investment in Sakhalin and Imperial Energy and we are seeking equity in companies dealing with the hydrocarbons and minerals. We also are looking at investing in fertiliser plants in Russia."
Commenting on the latest bilateral trade figures, which witnessed a 25 percent growth in 2012 to touch $11 billion, Sharma said India is Russia's 18th largest trading partner and jumped 5 positions up last year. He expressed confidence that the target of $20 billion could be achieved by 2015. Investments by Russian companies in India and Indian companies in Russia increased manifolds, he said adding that there import-export basket is diverse.
Ahead of Sharma's press-conference, India's Ambassador to Russia Ajai Malhotra said the Indo-Russian calendar for the current year is going to be full of bilateral events of high significance. Indian Prime Minister Manmohan Singh is expected to visit Russia twice, first for the G20 summit in September and then for the annual bilateral summit with Vladimir Putin.
All rights reserved by Rossiyskaya Gazeta.