DMIC to feature in Khurshid's Russia talks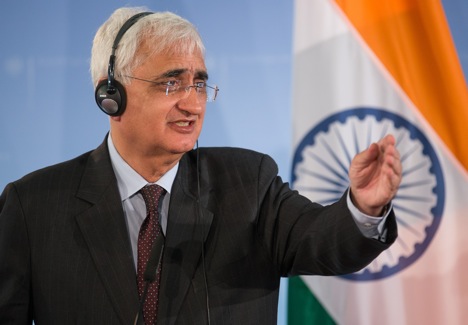 Indian External Affairs Minister Salman Khurshid. Source: AP
India's Foreign Minister Salman Khurshid and his Russian counterpart Sergey Lavrov will discuss a wide range of issues including the Delhi-Mumbai Industrial Corridor project.
India's Delhi-Mumbai Industrial Corridor (DMIC) project will be on the agenda when Indian External Affairs Minister Salman Khurshid visits Russia on April 28 for a three-day visit to co-chair the next Indo-Russian Intergovernmental Commission (IRIGC) meeting along with his Russian counterpart Sergey Lavrov.
A senior Indian official said the April 29 meeting of the IRIGC in Moscow is likely to discuss, the $90 billion corridor of opportunities that India has been hard-selling to foreign investors since past few months.
The IRIGC meeting will discuss a wide range of issues touching virtually every major ministry. Finding ways and means of boosting trade and roping in private sector in both the countries to achieve this task will be very high on the agenda of the IRIGC meeting.
The first time India had pitched for Russian investment in the DMIC project was in October 2012 when the then-External Affairs Minister SM Krishna mentioned the subject during his joint press interaction with the visiting Russian Deputy Prime Minister Dmitry Rogozin in New Delhi.
The issue has once again come under a sharp focus during Indian Commerce and Industry Minister Anand Sharma's just-concluded Russia visit. Sharma went on record as saying that he had invited Russian companies to take part in the setting up of "at least one" world-class industrial enclave under the DMIC. Sharma is going to make a laser-beam focus on the DMIC project in June in St Petersburg when his senior officials will be making a power-point presentation to their Russian counterparts to scout for potential Russian investors.
India's Commerce and Industry Minister did some important spade work on the twin issues of boosting trade and investments with his key Russian interlocutors over the last weekend. Sharma will be in Russia again in June this year when he will be attending the St Petersburg Economic Forum, a high-octane event to be attended by top officials of key economic ministries from both sides.
A unique feature of the forum will be that it will be providing the first ministerial-level meeting to discuss a Comprehensive Economic Cooperation Agreement (CECA) between India and the Customs Union, which has Russia, Kazakhstan and Belarus as members. Sharma has said that this will open new opportunities for the growth of bilateral Indo-Russian trade and multilateral relations of India with countries of the Eurasian Economic Community.
"We are keen on expediting CECA talks with the Customs Union. The agreement will cover trade, services and investment, and India will be one of the first countries to sign such a pact with the Russia-led union," Sharma had gone on record saying this after his engagements in Moscow past weekend.
Why Russia needs to hurry up on DMIC
The Indians have been hard-selling the DMIC project to foreign powers and straws in the wind suggest that major powers like Germany and the UK are going to jump on to the DMIC bandwagon soon.
Incidentally, the DMIC project is being constructed as a collaborative venture with Japan. However, the Japanese aid and investment are virtually a drop in the ocean and India needs more foreign investment in this project. The DMIC project will result in creation of a number of new industrial townships which will be areas of possibilities for cooperation with many foreign partners. RIR had covered the DMIC project extensively here.
All rights reserved by Rossiyskaya Gazeta.