Russia continues to supply cutting-edge technology to India - Alexander Kadakin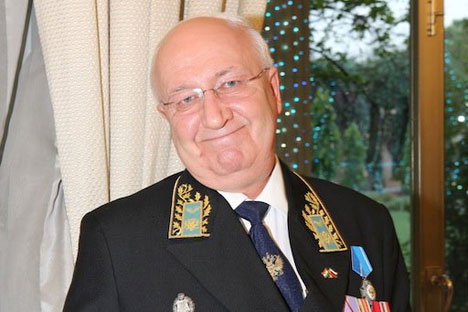 Alexander Kadakin, Russia's ambassador to India. Source: Press Photo
Moscow has defence orders from New Delhi to the tune of over $20 billion, the Russian Ambassador said at an IAF function.
With growing reports about India looking for new suppliers in the defence industry, Russia's ambassador to India, Alexander Kadakin said his country shared a special relationship with India and continued to provide cutting-edge technology exclusively to New Delhi.
According to a PTI report carried by the Economic Times, Kadakin reminded the audience that India's "newly-acquired partners" in the defence sector did not follow Russia's example.
"Unlike its newly-acquired partners, we provide the latest cutting-edge technology to India and don't share it with others," Kadakin was quoted as saying at an IAF function on the MiG-21 aircrafts. The ambassador said Russia was still India's biggest partner and it has orders worth over $20 billion for supplying defence hardware to its armed forces, according to the report.
IAF Chief Air Chief Marshal N A K Browne said 874 MiG-21s were inducted into the force of which over 200 were still in service, according to the report. It has been 50 years since the first MiG-21 fighter jets were delivered to the Indian Air Force.
Built in 1956, the world's most widespread fighter came out of the shadows in 1962, when India decided to purchase the newly-developed Soviet aircraft.
Artyom Mikoyan's brainchild took part in India's armed conflicts with Pakistan in 1965 and 1971.
The Soviet-made fighter played a key role in securing India's advantage over Pakistan in the 1971 conflict. The Indian Air Force's MiG-21s shot down four F-104s, two F6s, one F-86 Sabre and one Lockheed C-130 Hercules of the Pakistan Air Force. The MiG-21s also ensured the Indian Air Force's aerial advantage above the key combat areas in the Western theatre.
By the end of the 1971 war, the MiGs had been recognised as clear winners of dogfights with the F-104 Starfighters.
They proved their worth again during the 1999 Kargil conflict, when the MiGs shot down the Pakistani Navy's Breguet Atlantique with air-to-air R-60MK (AA-8 Aphid) missiles.
Read more about the role of MiG's in India.
All rights reserved by Rossiyskaya Gazeta.