India celebrates 'Golden Jubilee' of MiG-21's association with the IAF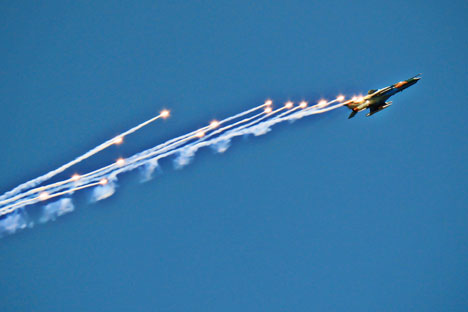 Indian pilots: 'We might be flying a different aircraft, but our heart stays with the MiG-21.'" Source: flickr/IreneAdler1
To mark the occasion, a book titled "First to the Last: 50 years of MiG-21 with the IAF" was released in Delhi.
The MiG's Golden Jubilee was celebrated in style in India's capital on Saturday with the guest-list comprising of former pilots, high-ranking armed forces officials and diplomats.
"Back in the 1960s, my country was the first to offer India its most advanced, cutting-edge weapons, including MIG-21 aircraft, which significantly enhanced India's military power and predetermined its supremacy in the region," said Russia's ambassador to India, Alexander Kadakin. "How important it proved during the 1971 crisis! Ever since, our interaction in military aviation has gone from strength to strength. Currently, the Indian Air Force operates over 500 Soviet and Russian-made aircraft."
The highlight of the evening was the release of the book, "First to the Last: 50 years of MiG-21 with the IAF." The book, which was officially launched by Indian Air Chief Marshal Norman Anil Kumar Browne, is a collection of articles that together reflect the history of the aircraft in India. It was compiled by President of The Society for Aerospace Studies Pushpindar Singh and retired Air Marshal Philip Rajkumar.
"I was a pilot myself: I flew the MiG-21 fighter, then the Jaguar, Norman Anil Kumar Browne said. "People often asked me how I could switch from one plane to the other. My colleagues and I always answered 'We might be flying a different aircraft, but our heart stays with the MiG-21.'"
His words were echoed at the ceremony by five Air Marshals and three former Air Chief Marshals, including former Air Chief Marshal Anil Yashwant Tipnis and Srinivasapuram Krishnaswamy. They recalled the Indo-Pakistani War of 1971 and insisted that if it weren't for the MiG-21, then victory may have come at a much higher price.
"No doubt, this 200-page volume will serve as a fine tribute to Russian-Indian friendship and cooperation, as a monument to the illustrious heroic workhorse: the MIG-21," Kadakin added. "By the way, has not it deserved a real monument to be erected somewhere at an air base? It will be a befitting tribute and a sign of friendship and gratitude to the magnificent machine that safeguards your skies."
The agreement on the delivery of MiG-21 aircraft to India was signed in 1962, with deliveries commencing one year later. In 1967, Hindustan Aeronautics Limited (HAL) handed over the first MiG-21 built under special license from the USSR to the Indian Air Force.
"In light of today's celebrations it is worth noting that the foundations for the successful partnership between Russian Aircraft Corporation MiG (RAC MiG) and India were laid 50 years ago when the leaders of our countries, Jawaharlal Nehru and Nikita Krushchev, forged the friendship between the Indian and Soviet peoples," explained RAC MiG General Director Sergei Korotkov "We don't just sell aviation equipment; we also pass on technology that contributes to the development of corresponding production in India, namely industrial centres and repair facilities."
According to Korotkov, this is beneficial not only for the development of relations between RAC MiG and India, but also for Russian-Indian military and technical cooperation in general. "Just look at the scale of work that we are doing – we can safely say that we are continuing and building upon the success we have been talking about," he said.
HAL Chairman Dr R. K. Tyagi, who was also at the ceremony, commented: "The MiG-21 project stands as a beacon not only in the history of HAL but also as a close knit partnership between IAF and HAL."
And you can believe it when he says this; the mutual affection that HAL and MiG share for one another is almost as old as the affection – or to give it its official name, the strategic, special and privileged partnership – that Russia and India share.
Serial production of the MiG-27 was carried out at the HAL factory from 1988 to 1997. And it will soon start work updating the MiG-29.
Meanwhile, RAC MiG is planning to launch serial production of its own multirole MiG-35 fighter. But we'll have to wait and see whether it will join the ranks of the Indian Air Force. Russia at least is counting on it.
"I'd like the MiG-35 to eventually be a continuation of our shared history and our 50-year partnership," Korotkov explained. "We hope that India will consider signing a contract for the delivery of MiG-35 fighters, and that we will be in a position to be able to do this."
All rights reserved by Rossiyskaya Gazeta.