Uralkali to spend $1.64 bn in share buyback drive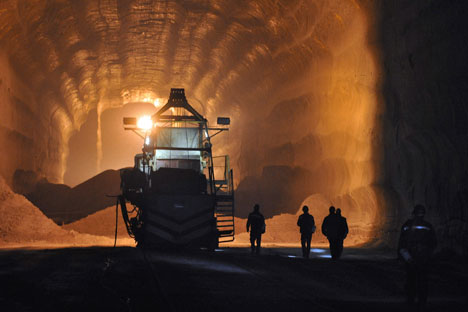 In 2012 due to delays in signing contracts with Chinese and Indian partners, Uralkali reduced its production by 16 percent, down to 9.1 million tonnes of potash. Source: Denis Vyshinsky / Kommersant
In a single week in mid-April, the potash fertilizer company spent $141 million as part of its share buyback programme, in an attempt to prevent investor panic over its plans to cut production in 2013.
Between April 15 and 19, Russian potash fertilizer giant Uralkali bought 0.65 per cent of its stock on the market, having paid $141 million for it. Most of the stock, 0.54 percent, was bought in shares rather than GDRs. "Share buyback is a way of bringing money back to shareholders. When creating value through diversification or M&A is impossible, as is the case with us, money should return to shareholders," Uralkali CEO Vladislav Baumgertner said in an interview with Vedomosti.
This is the largest share buyback amount since the company launched the programme in November 2012. The maximum that Uralkali plans to spend on buying back its shares is $1.64 billion. The company has already bought back $228-million worth of shares. The bulk of that amount fell on April, when the company was buying back shares every week. The average price is about $36.7 per GDR and $7.3-7.4 per share. On the Moscow exchange, between April 1 and 12, Uralkali shares dropped by 1.5 per cent, but just last week rose by 3.45 per cent. On the London exchange, between April 2 and 12, Uralkali GDRs lost 2.16 per cent but gained 3.41 per cent between April 15 and 19.
The stock is being bought by an Uralkali entity, Enterpro Sеrvices Limited. Baumgertner stressed that majority shareholders were not involved in the buyback.
A dent in the Uralkali share price in April is understandable. On April 10, the company released its financial statements for 2012. The results were not bad but at a conference call the company's managers reduced their 2013 production forecast by 10-11 per cent down to 9.5-9.7 million tonnes, VTB Capital analyst Elena Sakhnova said. Furthermore, in 2012 due to delays in signing contracts with Chinese and Indian partners, Uralkali reduced its production by 16 percent, down to 9.1 million tonnes of potash. Some investors, driven by that news as well as by falling grain and oil prices, began selling, Sakhnova said. She expects the situation on the agricultural market to improve in the second half of the year, after the corn crop forecast has been published.
First published in Russian in Vedomosti.
All rights reserved by Rossiyskaya Gazeta.