10 most progressive research themes of the future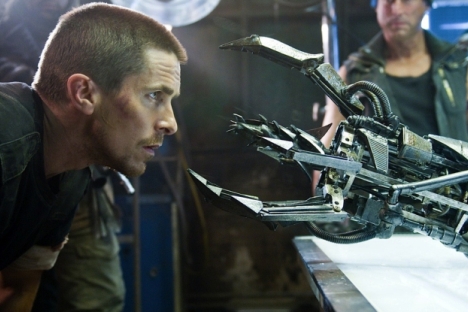 One of the objectives is the development of autonomous long-life deep-water robots capable of servicing cables and investigating the ocean bed. Footage from the movie, Teminator Salvation. Source: Kinopoisk
A report submitted to Russia's Advanced Research Foundation mentions three-hour trips between Moscow and Vladivostok, lunar space lifts and an army of Terminators.
Specialists at the Military-Industrial Commission have outlined the 10 most promising high-risk research programmes in their report to the Russian Advanced Research Foundation.
1. Organs as spare parts
The report opens with biomedical technologies. The first programme is aimed at creating emergency life-saving technologies that could be used where existing methods do not work. The commission suggested that the foundation start growing organs from human cell tissue by "applying a cell coating atop a de-cellularised protein or synthetic network using the growth factors for a directed stem cell differentiation."
2. Life support spider-robot
The authors of the report believe there is a need for developing a fully automated medical aid system adapted for use on a battlefield. They argue that life support robots could prepare the wounded for evacuation and reduce casualties.
The programme is expected to result in the creation of a 'spiderlike robotic device' for field medical support teams, or as part of an automated evacuation system.
3. Mobile blood station
The production of artificial human blood is another area that the commission believes is worth pursuing under the Advanced Research Foundation framework. The report urges the foundation to consider designing a mobile station capable of producing about 100 kg of erythrocytes a day, as well as platelet precursors and genetically engineered products.
4. Frozen organs
Cryopreservation is another issue high on the commission's agenda. According to its data, as of today, organs can only be conserved for 24 hours at 4°C. Advancements in cryopreservation could help increase this period to one year or more.
5. 'Living factories'
The report also suggests applying the latest biochemistry and software findings to cellulosic fuels (biodiesel) and industrial materials. The commission believes that synthetic biology and industrial biotechnology methods can lead to the effective production of construction materials and fuels.
6. Battery-powered trains for grownups
New technology accumulator batteries could be used to expand the energy resource stock. The report states that more powerful batteries (1 MW and higher) are expected to appear in the near future. This would allow power to be stored for major electricity consumers, such as trains, plants and even residential areas.
7. From Moscow to Vladivostok in three hours
Another idea put forward by the commission was that of a hypersonic vacuum train. The construction of such a train, as well as magnetic levitation train (Maglev), would go a long way to making sure that Russia's regions are all interconnected, which is a big challenge today. "Maglev could reach a speed of 600 kilometres per hour and a vacuum train could in theory operate at several thousand kilometres per hour. Such means of transport could level Russia and the European countries with regard to domestic transportation speeds: a two or three hour trip by land from Moscow to Vladivostok could become a reality," the council claimed.
The Russian Advanced Research Foundation is modelled on the US Defense Advanced Research Projects Agency (DAPRA). Its primary purpose is to promote high-risk projects that may contribute to the country's defence industry. Such activities are expected to result in breakthroughs in the military, technology and socioeconomic spheres. Currently, the Advanced Research Foundation operates with a budget of 150 million roubles (just less than $5 million). But in late January, Deputy Prime Minister in charge of the Russian defence industry Dmitry Rogozin announced that it would be further increased to 3 billion roubles (around $100 million) or more.
The report doesn't stop there. It goes on to suggest that hypersonic airliner be built. The plane would be able to deliver passengers to Petropavlovsk-Kamchatsky in one hour, and the US Pacific Coast in two.
8. Space lift and Martian mines
The most ambitious project put forward by the Commission might just be the construction of a space lift cable transport system. "The creation of such a lift […] would allow us to exploit the natural resources of various objects in space, from the Moon to Mars, and even asteroids. It would make building heavy spacecraft for long-distance missions around the Solar System possible," the report states. According to the report, NASA is already financing space elevator research.
9. The Russian Matrix
The Military-Industrial Commission proposed that a number of scout attack systems be developed. The report explains that such technology may complement land-based robotic equipment and drone control centres, which, in turn, will ensure communication with an Integrated Tactic Forces Command System and may all become part of a single 'smart network.'
10. Terminators on military duty
Military robotics concludes the list of projects submitted to the Advanced Research Foundation. The relevant objectives are divided into several areas. One of them is the development of autonomous long-life deep-water robots capable of servicing cables and investigating the ocean bed. Another field of research concerns a high-flying unmanned reconnaissance-and-target-detection system with an extended loitering capability. Other suggested areas include a car-mounted all-terrain patrol robot and an exoskeleton that amplifies human muscular strength. However, the Commission admits that it will take a lot of time for the robots to reach the level of an average soldier and man-controlled equipment.
First published in RIA Novosti.
All rights reserved by Rossiyskaya Gazeta.