St. Petersburg International Economic Forum expects billions in new contracts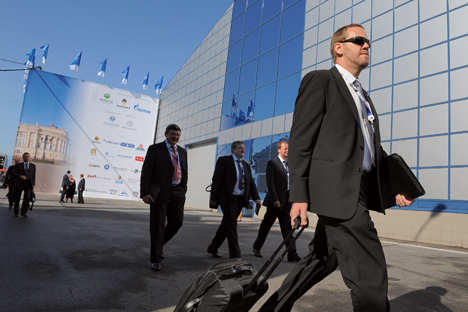 The heads of more than 500 companies confirmed their attendance in St. Petersburg International Economic Forum this year. Source: Kommersant
The 17th St. Petersburg International Economic Forum, which takes place on June 20–22, may see the signing of Arctic offshore oil and gas development contracts.
The annual St. Petersburg International Economic Forum (SPIEF) is frequently compared to the World Economic Forum in Davos in terms of its sheer scale.
The Russian president oversees it personally, and it attracts high-ranking delegations from various countries and CEOs of large multinational companies.
The SPIEF is a traditional venue for closing large deals.
"Some 50 agreements worth $6 billion were signed at the St. Petersburg International Economic Forum in 2011, while organization expenses amounted to $28 million. 2012 saw the signing of 84 agreements, including nine contracts worth a combined $11 billion. Transaero's purchase of Airbus A380 jumbo jets for an estimated $1.7 billion was an example of one such contract, as was the supply of six Sukhoi SuperJet-100 aircraft estimated at $212.4 million," said Andrei Shenk, Senior Analyst for transport, engineering, metals and chemicals at Investcafe.
According to SPIEF's organizing committee, the heads of more than 200 international and 374 Russian companies, have already confirmed their attendance. Among them will be the CEOs of 55 international and 23 Russian Forbes and Fortune companies.
"Along with the leaders of various nations, this year we are expecting such prominent experts as BP CEO Robert Dudley, Unilever CEO Paul Polman, Siemens AG CEO Peter Löscher and Dell CEO Michael Dell," an organizing committee representative said.
A list of attending Russian counterparts includes Sberbank President German Gref, Gazprom CEO Alexey Miller, Rosneft President Igor Sechin and Severstal Group CEO Alexey Mordashov. The Forum will include issues ranging from the global financial crisis to Africa's infrastructure problems.
This year, Russia holds the G20 Presidency. On June 18 and 19, SPIEF will play host to Youth 20 events, followed by a Business 20 summit on June 20.
On June 22, the last day of the Forum, a Russia-ASEAN (Association of Southeast Asian Nations) Business Forum will take place.
Stimulating investment to speed up economic growth will be the main topic on the G20 agenda. Economists are also hoping to find ways to mitigate the global financial crisis. Although the global economic outlook still causes concern, the steady recovery in the United States and China is a cause for optimism.
Besides global issues, business leaders and politicians intend to focus on problems in individual countries – for example Africa, whose economic growth is impressive yet needs support. The SPIEF 2013 agenda also includes the Middle East, which despite persisting political instability badly needs trade, investment and economic diversification.
In the latest trends, experts note the rising influence of rapidly developing countries as Indonesia, Vietnam, Turkey and Nigeria.
CNN International editor and host, John Defterios, will moderate a SPIEF thematic session on countries outside BRICS to find out the steps those countries need to take to maintain their increasing influence and what the implications for the global entrepreneurial community are.
In addition to separate economic prospects, G20 intends to discuss present-day issues such as rising energy consumption. Rapid population growth, urbanization, the rising share of the middle class across the world and changing consumption patterns are just some of the factors that are expected to accelerate demand for energy over the long term.
And while politicians talk about rising demand, oil industry players will be discussing structural changes in the global energy supply – the United States with its shale revolution and Japan with its recently discovered huge offshore natural gas deposits could become game changers in the near future.
That said, experts believe international cooperation could become a response to such challenges. "For example, active development of the Arctic shelf by Russian companies could possibly result in agreements on the joint development of oil and gas deposits," Shenk said.
All rights reserved by Rossiyskaya Gazeta.