RBTH foreign supplements to be available on NewspaperDirect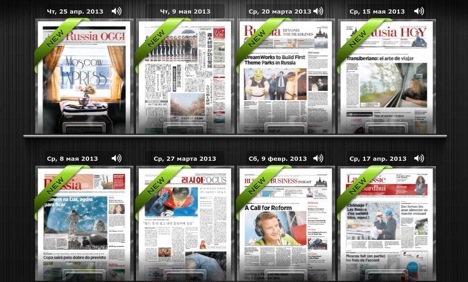 From June of this year it will be possible to read Rossiyskaya Gazeta's foreign supplements, which are published as part of the Russia Beyond the Headlines project, on the Internet or on mobile devices with the aid of NewspaperDirect, one of the world's biggest reading applications.
Thanks to PressReader, NewspaperDirect's app for smartphones, tablets and e-book readers, each issue of the new insert will be available on its day of publication on devices running on iOS, Android, BlackBerry 10 or Windows.
The SmartFlow technology used in PressReader lets you look through the articles in the form of a horizontal stream of articles. For more conservative users there is Replica View, which displays whole pages of the supplement in the same format as the printed version.
Other useful functions available with PressReader include wireless printing of a selected article or of a whole page, posting articles that you like on Facebook and Twitter, and listening to an audio version of all the articles.
Apart from PressReader, the foreign supplements will be available on their day of publication via any Internet browser at www.PressDisplay.com. Here you'll be able to look through the latest issues free of charge.
For the time being, 19 supplements about Russia in newspapers such as The Wall Street Journal and The New York Times (USA), The Daily Telegraph (UK), Le Figaro (France), Süddeutsche Zeitung (Germany) and others will be available on NewspaperDirect. For the full list of supplements available in PressDisplay and PressReader, click here. In the future it will be possible to read all 27 RBTH supplements in 16 languages.
"All our supplements are unique in their own way. They are all adapted and localised to the format, language, journalistic style and readership of the specific foreign newspapers in which they are published. Our cooperation with NewspaperDirect will enable us to make these supplements available anywhere in the world and on any mobile device," says Eugene Abov, head of the Russia Beyond the Headlines project.
An international project by Rossiyskaya Gazeta, which has been publishing monthly supplements about Russia within influential international media since 2007. The project now covers 27 publications in 16 languages in 21 countries. The total print run of all
the RG foreign supplements is about 10.5 million, with a reach of more than 32 million people. The RBTH multimedia portal (www.rbth.ru) includes 14 foreign language versions and two regional versions, RBTH's online resources also include special sections on the web portals of key partner newspapers, a mobile version of the site and an English-language iPad app.
NewspaperDirect:
A world leader in newspaper and magazine distribution. NewspaperDirect enables millions of people all over the world to read newspapers and magazines in printed or online formats, on mobile phones, tablets and e-book readers.
All rights reserved by Rossiyskaya Gazeta.