Qiwi makes inroads into Indian market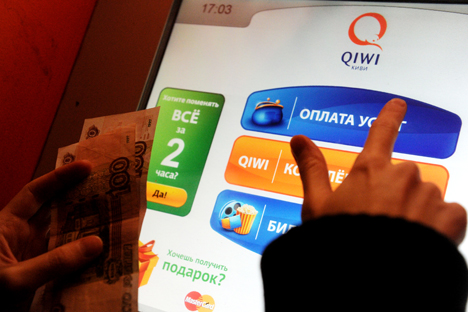 Residents in the Indian capital are happy to use the Qiwi system to pay their phone bills and to pay their digital television providers, and they also use it to manage their consumer credit. Source: ITAR-TASS
The Indian franchising partner of the Russian instant payment operator has more than 1000 sales outlets in India, including 200 kiosks in Delhi.
It's easy to make a variety of instant payments for a variety of services ranging from a post-paid mobile bill to cable television subscription fees, thanks to a successful Russian company that set up base in India's national capital region in the beginning of 2011.
The Indian franchising partner of Qiwi, Russia's biggest instant payment system, which has more than 1000 sales outlets in India said at the beginning of June that its earnings grew tenfold over the course of a year to $50 million.
Qiwi was promoted in the Indian market by Marat Zagidullov, the former co-owner of Motovilikhinskiye Zavody, which produces the rocket systems for the Smerch multiple rocket launcher system and road-building equipment. He owns a 25 percent stake in Qiwi India, with another 25 percent stake being held by Valery Yeliseyev, former co-owner of Energostream. The remaining 50 percent is owned by Rio Grande, which is linked with the Qiwi group, a friend of Zaigidulkov told Kommersant. "This fast-growing market is attracting foreign investors: India has very liberal legislation regulating the acceptance of payments," the businessman's friend explained.
Sources in the Qiwi press office in Moscow say Qiwi India is not part of the group. "We work with Qiwi India under a franchise contract, and under this contract the company uses Qiwi's brand and software in the Indian market," said a member of the press office staff. He explained that there is a direct franchise contract with Qiwi India, but in some foreign markets Qiwi works through Rio Grande International, which acts as the franchise holder. But this company is not included in the list of affiliated companies in Qiwi's accounts. The group does not disclose the names of shareholders in Qiwi India.
According to the Qiwi website, under this franchising contract the company now operates in 11 countries, including India, China, Argentina and Peru. In the US, Brazil and another six countries, Qiwi operates directly, while in Serbia, Latvia and Bulgaria it works under a licensing agreement.
Zagidullov is believed to have gotten involved in business in India about 18 months ago. This coincided with the time when his shareholding in Motovilikhinskiye Zavody was being sold. Before 2009, Zagidullov controlled this company in Perm together with his uncle, former Russian State Duma deputy Rafael Gimalov.
Then Gimalov retired from business and sold his shareholding to a group of local entrepreneurs led by Vagarshak Sarksyan, while Zagidullov retained 15 percent, which he sold to Uralvagonzavod at the end of 2011.
Qiwi India currently has more than 1,000 sales outlets, including about 200 kiosks in Delhi and in two neighbouring states. Indian customers use the Qiwi payment system mostly to pay for utilities, in particular their electricity and water supplies. Thus one of the biggest providers whose services can be paid for via the Qiwi system is Delhi Jal Board (which regulates the water supply in Delhi). In addition, residents in the Indian capital are happy to use the Qiwi system to pay their phone bills (India now has 12 network operators) and to pay their digital television providers, and they also use it to manage their consumer credit. The average payment is 150–200 rupees ($3–3.5).
Victor Dostov, chairman of the Electronic Money Association, notes that from the point of view of Qiwi's business, India "is a hugely interesting market where there is a gigantic population with growing wealth and where the payment infrastructure is not very developed". It is expected that by 2015 Delhi will be the third most-populated mega-city in the world after Tokyo and Mumbai. The expert believes that Qiwi is operating in a franchise basis in India because "local players are traditionally better received there than foreign ones". Other Russian companies apart from Qiwi operating in the local telecommunications market include AFK Sistema's mobile phone subsidiary Sistema Shyam Teleservices (SSTL, trading under the brand name MTS).
Qiwi
Source: Kommersant
Qiwi is the biggest provider of instant payments in Russia and the CIS. The company was founded in 2006. At that time it was called "Mobile Wallet," the Qiwi brand name appearing in 2008. A major factor in its success was the vast number of terminals in countries and the relatively low level of commission on operations to transfer funds and to top up accounts.
Qiwi manages a network of 169,000 payment terminals and kiosks, making money from commission on the payments. The system is used by more than 40,000 vendors, who take more than 39 billion roubles ($1.1 million) in cash per month from 65 million users. In addition, Qiwi is earning money in partnership with Visa from payments made in the online wallet system (which is now 11 million accounts). The virtual wallet brings in 30 percent of the earnings and is growing by 80% year on year, while the rest of the business has grown by 14 percent year on year, according to Seeking Alpha. According to Qiwi's figures, the group's net profit grew by 88 percent in 2012, to reach 808 million roubles ($27 million.)
In the beginning of May Qiwi plc, which manages the biggest instant payment system in Russia, undertook an IPO on Nasdaq. The company offered 12.5 million shares in the form of American Depository Receipts (ADR), starting at $17 per share. The IPO left Qiwi valued by investors at $884 million, and the share offering was oversubscribed 5.5 times.
First published in Russian in Kommersant.
All rights reserved by Rossiyskaya Gazeta.