Young entrepreneurs show optimism at G20 YEA summit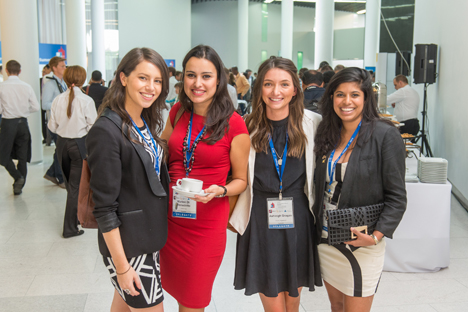 The YEA Summit was attended by 400 entrepreneurs from 20 countries. Source: PressPhoto
Forty-one percent of young entrepreneurs surveyed by Accenture feel confident their business will continue to grow.
From June 15th to 17th, Russia hosted this year's G20 Young Entrepreneur Alliance (YEA) Summit at the Skolkovo Technopark in Moscow.
The event was attended by 400 entrepreneurs from 20 countries, who gathered to discuss the international experience of creating new workplaces, adopting innovations and supporting a competitive business environment.
Young entrepreneurs have shown themselves as active users of the latest digital technologies in managing business. The summit's resulting communique of recommendations underlined the importance of further developing digital infrastructure.
The document also suggested giving more attention to educational programs for entrepreneurs, such as promoting entrepreneurial culture and organizing public funding in the research of green technologies.
Financial support for start-ups and growing companies, state support (by reducing taxes in science and technology programs) and social entrepreneurship were listed among the most important problems to solve in the near future.
Young entrepreneurs during the G20 YEA summit in Skolkovo. Source: PressPhoto
Potential solutions may include funding on favorable terms, changes in banking requirements and the development of new financing rules.
"The economy is undergoing structural changes, with a tendency toward individualized production: creating new products designed for a specific consumer and using new innovative approaches. The role of small businesses is growing – young people are more susceptible to innovations. This requires the skills of running your own business as well as subject-related knowledge. Regretfully, our level of training in basic entrepreneurship and risk management skills in learning institutions' curricula leaves much to be desired, and the number of young people wishing to start up their own business is very small. What is required are changes on a strategic level, shaping the right entrepreneurial culture in addition to fundamental education," said Victor Sedov, a founding member of the G20 YEA from Russia and President of the Center for Entrepreneurship.
Research presented by Ernst & Young surveyed 1,000 entrepreneurs from the G20 countries. It shows most small and medium business as needing state support. A majority of the participants agree that the state should help facilitate access to funding and combat bureaucracy barriers.
According to the research, the three biggest problems facing young entrepreneurs are difficult access to funding (73 percent of respondents named it as a problem), a lack of training programs (66 percent say entrepreneurial skills need to be specifically taught) and a low level of supportive culture (51 percent want government programs providing education, funding and profile raising to have a high impact).
Twenty-three percent of those surveyed also list society's low tolerance of failure (a barrier to future business prospects) as a problem.
Accenture also presented research at the summit. The company shows technological innovations as a strategic priority for 78 percent of entrepreneurs in G20 countries.
Vartan Dilanyan, Managing Director of Accenture in Russia says: "The availability of technology has opened up to young entrepreneurs, including Russians, a wide range of opportunities for experiments and the development of new business models, which are increasingly reshaping the value chain in all sectors."
Forty-one percent of the entrepreneurs surveyed by Accenture feel confident that their businesses will grow in the next couple of years.
"The potential to develop an entrepreneurship environment is yet to be fully utilized. In Moscow, medium and small businesses, microbusinesses and individual entrepreneurs provide about 2 million jobs, around one-third of all jobs in Moscow," says Alexei Komissarov, Head of the Moscow Department of Science, Industrial Policy and Entrepreneurship.
"In Russia, small businesses need a lot of assistance in terms of access to funding, in educational programs, in creating conditions for innovative business development; but above everything else, it is essential that entrepreneurship should be made more popular."
All rights reserved by Rossiyskaya Gazeta.