Russia clinches $270 bn oil export deal with China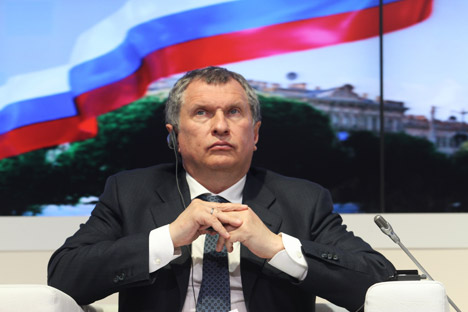 Igor Sechin said Rosneft and China National Petroleum Corporation (CNPC) will jointly develop three offshore fields in the Barents Sea and eight oil deposits in East Siberia. Source: ITAR-TASS
Rosneft's head Igor Sechin said the contract envisages the export of 365 million tonnes of oil to China over the next 25 years.
Russia's state-owned oil giant Rosneft will supply $270 billion worth of crude oil to China, the company said on Friday, after clinching a deal likely to make Moscow China's biggest energy supplier.
Rosneft's head Igor Sechin said the contract envisages the export of 365 million tonnes of oil to China over the next 25 years.
The deal will reshape the geography of oil exports from Russia, currently the world's largest producer of crude. Most Russian oil currently goes to Europe via a network of pipelines from West Siberia, while only a fifth of it is exported to Asia.
Sechin, a key ally of President Vladimir Putin, said Rosneft and China National Petroleum Corporation (CNPC) will jointly develop three offshore fields in the Barents Sea and eight oil deposits in East Siberia.
In 2009, Russia completed construction of a 2,700 kilometer (1,700 mile) pipeline across Siberia to China's Manchuria region.
In April, Rosneft and CNPC signed an agreement to deliver 37 million tonnes of oil a year.
The issue of increasing exports of Russian oil to China has been repeatedly raised this year. Rosneft's intention to boost oil supplies to China has been underpinned by opening the second line of Russia's East Siberia-Pacific Ocean (ESPO) pipeline in December 2012.
"Expansion of cooperation between Rosneft and China is utterly positive for the company, as it creates additional market outlet, which is important given the aggressive growth of its resource base," according to Ivan Anoshkin, an analyst at Invetscafe.
Rosneft is the only Russian company producing oil for exports to China. Tatneft, Russia's oil transportation company, also has contracts with China, with its oil exports estimated at 6 million tonnes a year. However, the oil transporter buys the commodity from Rosneft. Rosneft oil supplies to China stand at 15 million tonnes a year, which is planned to be boosted 250 percent - to 37.8 million tonnes.
Given that the projected capacity of the ESPO stands at 31 million tonnes a year, Rosneft needs to use alternative export routes. These might include via the pipeline network through Kazakhstan or via the Kozmino oil port.
"However, as a vector to the tightening energy relations between the two countries, the optimal variant looks to be to construct additional pipeline capacity," the Investcafe analyst concluded.
First published in RIA Novosti, RT.COM.
All rights reserved by Rossiyskaya Gazeta.