Uttarakhand disaster: Putin offers condolences, help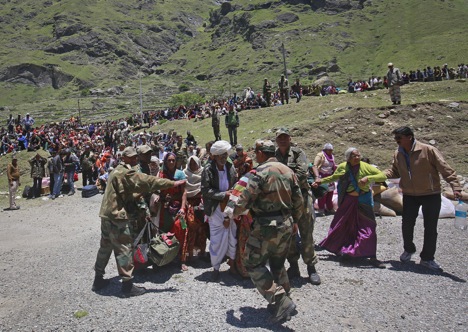 Soldiers stop survivors from going near an army helicopter as its lands during rescue operations at Badrinath in the Himalayan state of Uttarakhand June 21, 2013. Source: Reuters/Danish Siddiqu
Russian President Vladimir Putin told Indian Prime Minister Manmohan Singh that Russia was ready to help India in relief operations in the flood and landslide hit region.
Vladimir Putin expressed his condolences to President of India Pranab Mukherjee and Prime Minister Manmohan Singh on large-scale loss of life and severe destruction caused by the floods in the northern states of the country, the Kremlin press-service said.
In his message, Putin expressed his condolences to those who lost their loved ones, gave words of encouragement to all those injured and left homeless, and offered disaster relief assistance to the "friendly Indian nation."
Heavy pre-monsoon showers this month in the states of Himachal Pradesh and Uttarakhand triggered major floods and landslides. Over 6000 people are believed to have perished in this natural disaster. Damage to bridges and roads left over 100,000 pilgrims and tourists trapped in various places, with rescue operations by the Indian Army and Indo-Tibetan Border Police in full swing.
Around 34,000 people have been rescued from the area, and 50,000 are still stranded in 100 towns and villages in Uttrakhand, India's Home Affairs Minister Sushilkumar Shinde told reporters. Many of the missing are pilgrims and tourists that were at the foothills of the Himalayas at the Ganges, which is sacred to Hindus, at the time the disaster struck.
Buildings, cars and trucks along the banks of the river have been swept away or flooded
Prime Minister Singh has said the government would provide financial support from its national relief fund, with US$3,400 to be given to families who lost members, US$840 to those suffering injuries, and financial support provided to those who lost their homes. The prime minister also pledged US$167 million to Uttarakhand, the hardest-hit state.
Hundreds of people came out in Uttrakhand's capital Dehradun to search for missing relatives and express discontent with what they believe is the government's slow response to the disaster. Witnesses told AP that authorities were not efficient at evacuating survivors and lacked appropriately-sized vehicles to transport large numbers people at a time.
Several foreign tourists have been rescued by the Indian government. It is still not established if any Russian nationals are trapped in the Himalayas.
Based on materials from RT.com.
All rights reserved by Rossiyskaya Gazeta.