Major Russian drug manufacturer seeks investors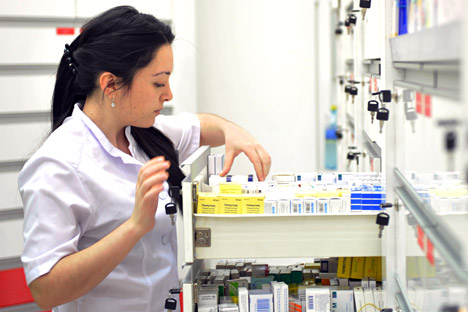 Pharmstandard's OTC drug business may serve as an entrance ticket to the Russian market. Source: Kommersant
Pharmstandard looking to sell over-the-counter drug manufacturing business for $2.5 billion. International companies seeking to move production to Russia to avoid import duties may be interested.
Pharmstandard, a major Russian pharmaceuticals manufacturer, is considering selling its non-prescription drug business with the company's owners putting a price tag of $2.5 billion on the asset.
The sale of Pharmstandard's over-the-counter (OTC) medicines business is still in the early stages, Bloomberg said yesterday, citing sources. It is also known that Citigroup is helping organise the process and that the assets are valued at roughly $2.5 billion. "We do not comment on rumours circulating on the market", investor and shareholder relations officer at Pharmstandard Irina Bakhturina told Kommersant. She confirmed, however, that the company was continuing to cooperate with Citigroup, one of the coordinators of its IPO back in 2007: the bank is helping the pharmaceutical manufacturer conduct a buyback and "some other things." Citigroup was unavailable for comment.
Kommersant's source on the pharmaceuticals market was aware of the plans by Pharmstandard's shareholders to sell its non-prescription drug business: "I was told of a similar amount they were planning to raise." A source in investment circles said Pharmstandard's plans to sell its OTC drug business first became known in March.
Pharmstandard runs eight factories in Russia (including one producing medical equipment) and one more in Ukraine. Augment Investments Ltd, controlled by Viktor Kharitonin and Yegor Kulkov, owns 54.3 percent in the company, Pharmstandard-Leksredstva holds 8.44 percent more, while the remaining shares are in free float on the Moscow and London stock exchanges. In 2012, medicine sales were at 50.1 billion roubles ($1.6 billion), with net profit at 9.2 billion roubles ($296 million). DSM Group estiamtes Pharmstandard to be the number one manufacturer in the over-the-counter drug segment, with a share of 7.6 percent in monetary terms.
The decision to sell the business may well indicate that Pharmstandard's owners no longer expect any growth in the segment, General Director of Stada CIS Ivan Glushkov believes.
It would be unreasonable for Pharmstandard to expect any growth from its main non-prescription medications, according to Director of the Centre of Social Economy David Melik-Guseinov. In his opinion, Arbidol, the key brand in the company's portfolio (with sales at 3.9 billion roubles, or $127.9 million, in 2012) is losing ground to a great number of new immune response modifying medicines on the market, while Corvalol may soon become a prescription drug because it contains some strong barbiturates.
Analyst at VTB Capital Ivan Kushch cited the possibility that some OTC drugs might soon be categorised as prescription medicines, as well as a possible ban on non-prescription drug advertisement touted by the Ministry of Healthcare, among additional risks involved in the sale.
Pharmstandard's OTC drug business may be appealing to international companies seeking to move production to within Russia in a bid to avoid import duties, Natalia Smirnova of Deutsche Bank told Vedomosti. "It [Pharmstandard's OTC drug business] may serve as an entrance ticket to the Russian market", Smirnova said. Yet the expert agreed that the asking price of $2.5 billion was overstated.
Ivan Kushch of VTB Capital believes the estimated value of $2.5 billion to be "overly optimistic" for the non-prescription business. According to Ivan Glushkov of Stada CIS, the optimal price would be close to $1 billion. Pharmstandard's OTC drug business is unlikely to catch the attention of any foreign players, since the brands only sell on the Russian market, David Melik-Guseinov believes.
Based on materials from Kommersant.
All rights reserved by Rossiyskaya Gazeta.