INS Trikand handed over to India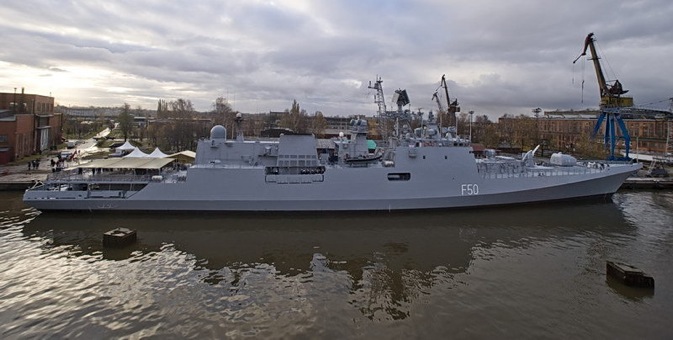 Russia and India signed a $1.6 billion contract on the construction of three modified Krivak III class (also known as Talwar class) guided missile frigates for India in 2006. Source: Rossiyskaya Gazeta
Vice chief of the Indian naval staff commissions the Russian-made frigate with Indian sonar, at a ceremony in Kaliningrad.
The INS Trikand, the last in a series of three frigates that Russia built for India at the Yantar shipyard in the Baltic exclave of Kaliningrad, was handed over to the Indian Navy on Saturday, June 29.
Vice admiral R K Dhowan, vice chief of the Indian naval staff commissioned the frigate in Kaliningrad at a ceremony attended by several officials including Ajai Malhotra, the Indian ambassador to Russia.
"Whilst the ship is made in Russia, it has on board many Indian systems, including the ship's sonar and its entire communications set-up," Malhotra said. "It is also armed, amongst others, with the BRAHMOS missile, which is the commendable result of a joint Indo-Russian cooperative effort and is probably the best supersonic missile in the world." While congratulating the Yantar shipyard staff, the Indian ambassador said, "Integrating equipment from diverse sources into a composite whole is one of the more challenging aspects of ship building."
Russia and India signed a $1.6 billion contract on the construction of three modified Krivak III class (also known as Talwar class) guided missile frigates for India in 2006.
The Talwar class frigates are designed to carry and operate one heavy duty early warning helicopter which can provide over-the-horizon targeting. The Talwar-class frigates can also have the indigenously built Dhruv light combat helicopter.
The frigate is ideal for anti-submarine warfare and its RPK-8 rocket system has a firing range from 600 to 4300 metres and the depth of engagement of up to 1000 metres.
Its combat data system independently generates combat missions based on situation analysis, determines optimal number of missile firings, displays information on the state of ship-borne weaponry and transmits data to protection systems.
The first frigate, INS Teg, joined the Indian Navy on April 27, 2012, and the second, The Tarkash, arrived at the port of Mumbai in India on December 30, 2012.
The frigates are each armed with eight BrahMos supersonic cruise missiles.
They are also equipped with a 100-mm gun, a Shtil surface-to-air missile system, two Kashtan air-defense gun/missile systems, two twin 533-mm torpedo launchers and an antisubmarine warfare (ASW) helicopter.
All rights reserved by Rossiyskaya Gazeta.