India, Russia NSAs see eye to eye on cyber security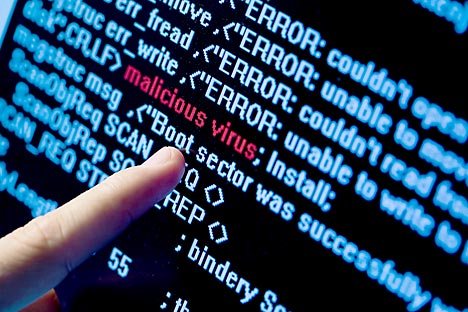 India and Russia can cooperate and collaborate more closely to ensure better cyber security. Source: Shutter Stock / Legion Media
Shivshankar Menon and Nikolai Patrushev discussed how the two countries could cooperate and collaborate more closely to ensure better security in cyber space.
In the wake of revelations of widespread American spying on allies and foes alike, India and Russia share common concerns on cyber security and are also on the same page on solutions to this vexed issue.
India's National Security Advisor Shivshankar Menon met General Nikolai Patrushev, Secretary of the Russian Security Council on the sidelines of the 4th 'International Meeting of High Ranking Officials Responsible for Security Matters' which was held at the Far Eastern Federal University in Vladivostok from July 2 to 4. They reiterated their commitment to share real time intelligence on issues such as cyber security, Afghanistan and terrorism as they have been doing in the past.
Menon is learnt to have given his mind to Patrushev on how India and Russia could cooperate and collaborate more closely to ensure better cyber security. A more in-depth process of technical-level discussions may be launched soon.
Incidentally, Menon's speech at the Vladivostok meeting demonstrated how seriously India is looking at the issue of cyber security. Menon described cyber space as the fifth domain of "human activity", in addition to land, sea, air and space.
Without naming any individual state, Menon mentioned that even countries were exploiting the advantages of anonymity and inter-connectivity of cyberspace and, like criminals and terrorists, trying to carry out identity theft and financial fraud, conduct espionage, disrupt critical infrastructures, facilitate terrorist activities, steal corporate information, and plant malicious software and Trojans which can be exploited in different ways. "Because of the anonymity and the difficulty in attribution, securing cyberspace against misuse by either State or non-State actors is a multi-dimensional challenge that requires concerted efforts on the part of all stakeholders," Menon said in his speech at the conference.
In his speech Menon said cyber security involved "threat monitoring, assessment, mitigation, risk management, forensics, hardening of systems and capacity building in terms of both technical as well as human resources." He added that these required "technical advances to make it possible for us to be able to redefine anonymity so as to separate legitimate from other uses of cyberspace."
Afghanistan
Menon and Patrushev, who have been in regular touch with each other and been discussing all issues, particularly the post-2014 Afghanistan, picked up the thread on this subject where they left last time.
The top security officials agreed that the phased withdrawal of the American and NATO troops from Afghanistan next year, beginning in February, will pose a big risk for both of them and the regional security.
The Russians' assessment is that in the first place the United States is not going to withdraw all its troops from Afghanistan in 2014. Even if the US were to do so, the Russians are convinced that the Americans will not repeat their past mistakes and will keep a mechanism allowing them to launch a sizable and effective military strike anywhere in Afghanistan whenever required.
They also discussed the recent developments regarding the Americans' direct talks with the Taliban, the opening of Taliban's office in Qatar and its implications. Russia has thus far refrained from publically taking a position on this issue while Indian External Affairs Minister Salman Khurshid had recently created a flutter by welcoming talks with the Taliban.
The Vladivostok Meeting
Incidentally, the Vladivostok meeting also turned a laser beam focus on terrorism in its multiple forms and security as delegates from 60 countries discussed three important security issues: (i) "International Cooperation Against Money-Laundering as a Factor Of Strengthening Global and Regional Security", (ii) "Main Directions of Strengthening International and Regional Transport Security", and (iii) "Convergence of Science and Technologies - New challenges and Potential Threats" which dealt with cyber crime.
The 'International Meeting of High Ranking Officials Responsible for Security Matters" is a Russian initiative aimed at bringing the international community on the same page and foster closer security cooperation globally to deal with the scourge of terrorism. This was the fourth consecutive year when this meeting was held.
To the credit of the hosts is that all delegates endorsed Russia's initiative and the Vladivostok meeting concluded with adoption of the statement of the chairman. The participants agreed that it will be a win-win situation for everyone if the international community could prepare an atmosphere of mutual confidence and take care of one another's interests.
All rights reserved by Rossiyskaya Gazeta.