First test-launch of BrahMos missile from Indian Su-30MKI in 2014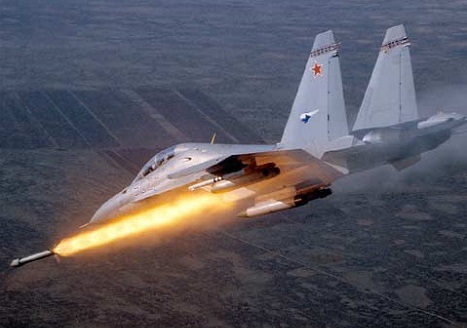 The air-based BrahMos missile will be different from the other versions because the very platform of the Su-30MKI works on the supersonic speed. Source: Sukhoi.org
Two jets are being refitted for the missile launch next year, BrahMos officials said at the 6th International Maritime Defence Show in St. Petersburg.
The first test-launch of the BrahMos cruise missile from an Indian Su-30MKI will be scheduled in 2014, a senior company executive said at the 6th International Maritime Defence Show in St. Petersburg on Sunday, July 7.
BrahMos Aerospace Executive Director from Russia Alexander Maksichev told reporters that the test-launch would take place next year. Two Su-30 MKI fighter jets are being refitted for the missile and simultaneously the missile is being adapted for the jet, he added.
BrahMos Aerospace head Sivathanu Pillai said that the planes were upgraded to some extent in order to be able to place a new missile under the hull and to integrate it with the fire control system. The fighter jets' wings were also amplified, he said.
The air-based BrahMos missile will be different from the other versions because the very platform of the Su-30MKI works on the supersonic speed so it's no longer necessary to accelerate the missile to the same speed.
"An engine of lesser weight and a modernised nose cone will give the missile the necessary speed, and an additional stabiliser will provide the stability during the flight," Pillai said.
BrahMos is an acronym of the two rivers: Brahmaputra in India and Moskva in Russia.
The missile has a flight range of up to 290 kilometres and is capable of carrying a conventional warhead of 300 kilograms. The missile can cruise at a maximum speed of 2.8 Mach.
Beside the latest developments on the BrahMos project, the exhibition focused the "Alexander Nevsky," a strategically important nuclear-power guided-missile submarine cruiser which will be handed over to the Russian Navy on November 15.
The Sevmash ship-building plant in the city of Severodvinsk is actively engaged in construction of seven multipurpose nuclear submarines of the 'Yasen' category. All seven submarines will be handed to the Russian Navy by 2020.
The first floating nuclear power station in the world
Russia resumed its project of building the 'Akademic Lomonosov' floating nuclear power station at the Baltiisky plant in Saint-Petersburg.
"We have a four-year contract, we are to submit it in September in 2016," Alexander Voznesensky, General Director of the company said. "There was no work for almost two years. And now there is a period of adaptation: we are buying the equipment, the materials. We are installing the equipment, and soon we will start setting the power units."
According to Voznesensky, the plant is also building a 60 MW nuclear ice-breaker (project 22220) and a 25 MW diesel-electric ice-breaker named Viktor Chernomyrdin.
457 companies from 31 countries took part in the maritime defence show.
Based on materials from Vzglyad and Fontanka newspapers.
All rights reserved by Rossiyskaya Gazeta.