Russia's daily oil production hits 25-year high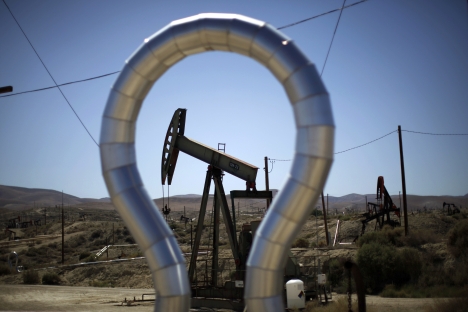 80 percent of all oil reserves are available at the fields already under development. Source: Reuters
In June, an average of 10.53 million barrels of crude was produced per day. Oil companies are eyeing further increases in production, but that may present a serious challenge.
In June, Russia's daily oil production reached 10.53 million barrels, according to Central Dispatching Department of Fuel Energy Complex (CDU TEK) data. The only time Russia produced more oil was in 1988, when the average daily production in the Russian Soviet Federative Socialist Republic reached 11.07 million barrels. Oil production has been falling since, hitting an all-time low of 6.06 million barrels per day in 1996. Last year, daily oil production averaged 10.37 million barrels.
There are two reasons for the new record, says Andrey Gromadin, oil and gas analyst at JPMorgan. The first is the increase in oil production at the Vankor Oil and Gas Field, developed by Rosneft, where last year's output totalled 18.3 million tonnes. In 2013, Rosneft expects the Vankor Field to reach its peak capacity of 25 million tonnes. "At the start of the year, Rosneft managers were saying that Vankor would produce between 420,000 and 440,000 barrels per day. Currently, its daily capacity stands at 430,000 barrels," Gromadin says. He adds that the field will not be able to further increase production.
The second factor is Gazprom's boosting of its gas condensate output to 350,000 barrels a day, from 270,000 barrels in 2010 and 300,000 barrels in 2011. The growth in production has been helped by rising oil prices. In February, prices reached their peak at $119 per barrel, while prices averaged $108 per barrel in the first half of the year, says Solid Investment and Financial Company analyst Artur Akhmetov.
Russia has long been ahead of Saudi Arabia in terms of daily oil production. According to Bloomberg, Saudi Arabia produced an average 9.47 million barrels of oil per day in June 2013. However, that country can easily increase its production to 12.5 million barrels per day, but it will not do this, preferring to keep prices high, says analyst at Raiffeisenbank Andrei Polishchuk.
There is a good reason why Rosneft has boosted its oil production, Polishchuk says. The oil major has concluded some big long-term contracts for crude deliveries. Starting this July, Rosneft will be supplying 8.6 million tonnes of crude annually to PKN Orlen until 2016. The company has also contracted to deliver a total of 365 million tonnes of crude oil to China's CNPC over the course of 25 years starting 2014.
Spokespeople for oil companies have been unavailable for comment on the oil production trend and outlook for the oil market. "It's a very delicate matter," a representative of a major oil company says. He adds that oil producers have repeatedly called for a stable environment for long-term investments in order to increase their effectiveness.
Individually, each oil company expects to increase, at least slightly, its oil production in the medium term. Following the acquisition of TNK-BP, Rosneft president Igor Sechin said that the integrated company would produce 215 million tonnes of oil this year. In 2012, Rosneft's output totaled 205 million tonnes. By 2017, Rosneft plans to double production at the Verkhnechonsk and adjacent fields to 15 million tonnes annually.
Lukoil president Vagit Alekperov said in late June that his company was planning to increase oil production by 1 percent annually starting 2013. The company will launch new large fields in 2016 – the Filanovsky Field in the Caspian Sea and Imilor field in the Khanty-Mansi Autonomous Region.
A spokesman for Gazprom Neft says that the company plans to produce 62 million tonnes of oil equivalent in 2013; the figure is projected to go up to 100 million tonnes by 2025.
Surgutneftegaz CEO Vladimir Bogdanov has said that his company will produce 60–62 million tonnes of oil over the next few years (Surgutneftegaz has reported production for 2012 at 61.4 million tonnes). Bashneft will also keep its oil output at the current level – 15 million tonnes – during the next three or four years, a spokesperson for the company says. Production at the Trebs and Titov oil fields is projected to reach 4.8 million tonnes by 2018.
However, Gromadin is certain that there are no prerequisites for oil production to increase any further following the peak recorded this June. Akhmetov argues that daily oil production will remain at 10.5 million barrels until the end of the year. Polishchuk notes that the strategy for the development of the Russian oil sector for the period to 2020 envisions annual oil output at about 505 million tonnes (Russia produced 518 million tonnes of oil in 2012). According to him, 80 percent of all oil reserves are available at the fields already under development. Akhmetov doesn't rule out that daily oil production may reach 10.8–11 million barrels by 2020 owing to the development of offshore fields and hard-to-recover reserves.
First published in Russian in Vedomosti.
All rights reserved by Rossiyskaya Gazeta.