India looks to access Russia, CIS through missing rail link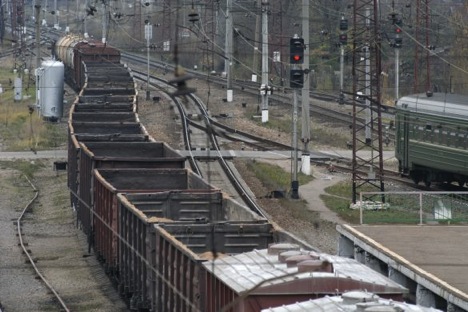 The rail corridor could become an alternative to the Suez Canal that India uses now to deliver goods to the countries to which it doesn't have land access. Source: Denis Grishkin, Vedomosti
165-km connection between Iran and Azerbaijan would help Indian goods reach Russia and former Soviet republics via Bandar Abbas.
India is keen to persuade Iran to build the 165-kilometre missing rail link between Rasht, Iran, and Astara, Azerbaijan, Mint said on its website. The connection would help facilitate Indian access to the markets of the Commonwealth of Independent States (CIS) and Russia, the paper said.
Recently, a meeting was held in Azerbaijan, in which eight countries interested in the rail link projectparticipated, according to the paper. The Indian delegation consisted of commerce ministry officials and officials from the rail ministry and Rail India Technical and Economic Services (RITES). According to the report, India came up with an initiative to provide consulting services through RITES to complete the railway project at the earliest.
"If this rail corridor is completed, we will have access to Russia and the CIS countries through the land route, which could give us substantial market access," Mint quoted an anonymous Indian commerce ministry official as saying.
The rail corridor could become an alternative to the Suez Canal that India uses now to deliver goods to the countries to which it doesn't have land access. With the railway link, India would be able to ferrygoods from India through Iran into the CIS countries using the Bandar Abbas port, thus reducing the distance drastically, the paper said, adding that for the project to go ahead Iran's clearance is needed.
Mint quoted a senior official at RITES, also speaking on grounds of anonymity, who said the state-owned company has submitted a proposal for a project feasibility study. "Iran is yet to give its clearance for the project. It is expected by 31 July," he said. The cost of the project could vary depending on the kind of track that is laid, he said. "It could be a single track or double track, and the material used will determine the price."
The timing for boosting the trade with the CIS countries seems just right as according to the commerce ministry official cited earlier in the report, the CIS countries' account in India's total trade diminished significantly from the 30 percent share in the 1990s to just 1 percent now.
A possibility of a comprehensive trade pact with the Eurasian Customs Union, which was discussed between India's trade minister Anand Sharma and Viktor Khristenko, chairman of the Eurasian Economic Commission, at the sidelines of the St Petersburg International Economic Forum is also on the agenda of increasing India's economic cooperation with the CIS countries.
Based on materials from Mint newspaper.
All rights reserved by Rossiyskaya Gazeta.