Track II diplomacy: Indo-Russian think tanks set to get closer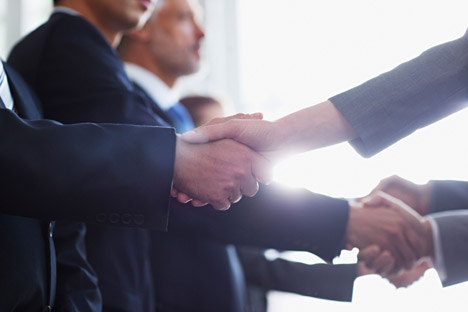 Some experts believe Russia needs to focus on the 'strategic triangle' of US-China-India, arguing that this would be of "exceptional importance" for shaping Russia's future. Source: Alamy/Legion Media
As Russia's global strategic footprints are fast expanding, Moscow is incrementally taking its ties with India to a next level through the Track II expert-level dialogue mechanism.
Think tanks have emerged as a major conduit in bilateral relations and for Track II diplomacy between sovereign states today with India and Russia being no exception to this trend.
This is one arena which would be given due weightage during the 14th Indo-Russian summit in Moscow later this year. A key Indian official told this writer that the governments of India and Russia are sensitized to the importance and impact of the think tanks and efforts would be made to rope in this aspect of bilateral relationship when the two principles meet in Moscow towards this year end.
As Russia's global strategic footprints are fast expanding, Moscow is incrementally taking its ties with India to a next level through the Track II expert-level dialogue mechanism.
Actually no such mechanism exists formally but things are changing and the track II process is slowly on way to become institutionalized. Among the Indian think tanks, perhaps it is the privately-funded Observer Research Foundation (ORF) that takes the lead in focusing on Russia in a manner no one else has.
ORF discovered Russia long before any other Indian think tank - state-controlled or privately-funded, because of the sagacious figure of its founder RK Mishra who understood the long-term importance of Russia for India. ORF has been actively engaged for years on conducting events on Russia and Indo-Russian bilateral relations for almost a decade. Since 2007, in collaboration with the Russiky Mir Foundation, ORF has been organizing an annual Indo-Russia dialogue wherein the movers and shakers of the two countries have participated.
The combo of ORF and Russiky Mir held their sixth Indo-Russia dialogue in November 2012 and had a laser beam focus on five primary areas in which India and Russia have overlapping interests and concerns. These were: 'Afghanistan 2014: The Way Forward', 'The Arab Awakening: Implications for India and Russia', 'The Emerging Security Architecture in Asia, 'Indo-Russian Relations', and 'BRICS and Global Governance'.
From among the state-funded Indian think tanks, there are two outfits which have been working on the Indo-Russian bilateral theme: Institute for Defence Studies and Analyses (IDSA) and Indian Council for World Affairs (ICWA).
IDSA, however, has not been able to focus on Russia as much as it wanted to. This is largely because the Russians themselves have not been forthcoming and because it takes two to tango. IDSA has held country-specific workshops, seminars and events over the years but not a single one on Russia. IDSA is aware of this anomaly and wants to make amends, given the close political relations between India and Russia.
Brigadier Rumel Dahiya, the Deputy Director General of IDSA, told this writer that the IDSA is planning to hold a first-ever Russia-specific event sometime in October-November this year. Dahiya said Russia was very much in the scheme of things of the IDSA as far as the Track II process was concerned, this process had not thus far lived up to its true potential and efforts were on to rectify things.
He said IDSA has an arrangement/understanding with think tanks of four dozen countries and his think tank was working towards having an international event on Russia later this year. "India and Russia are very close strategic partners but somehow their bilateral relations have lacked the required punch and the same is true about the Indo-Russian strategic communities. We are in touch with our Russian counterparts and hope to fill the gap very soon," Brigadier Dahiya said.
While IDSA gets about the task of putting its act together with regard to Russia, another state-funded Indian think tank has just started the Russia-connect process – the Indian Council of World Affairs (ICWA).
The ICWA, in association with the Moscow State Institute of International Relations (MGIMO), organized a conference on "New Contours of India-Russia Special and Privileged Strategic Partnership" in Moscow in May, 2013. The conference was a track II initiative and aimed at examining the convergences and divergences, the future prospects of their bilateral "special and privileged strategic partnership" and the impact on their bilateral relations in their relationship with other major players like US, China, EU and Japan.
Russian speakers at this conference said Russia needed to focus on the 'strategic triangle' of US-China-India, arguing that this would be of "exceptional importance" for shaping Russia's future.
The ICWA initiative promises to be an institutionalized mechanism wherein India would explore the world with the Russian prism. This is all the more important from the Indian view point considering that Russia is the only country to be a member of three premier international outfits like the G8, the G20 and BRICS.
According to 2012 Global Go To Think Tanks Report and Policy Advice, released in January 2013,there are 6603 think tanks in the world – with India ranked at number four in that year with 269 think tanks after the US, China and the UK. In 2010, India had the distinction of holding the third position, with its share of 292 think-tanks among the 5,329 such institutions round the globe, after the US (1,815) and China (425). Russia has 112 think tanks.
The numbers keep changing. But it would be a pity to see the four hundred-odd think tanks in India and Russia not to interact with one another proactively considering the special and privileged political relationship that the two countries have had for decades.
All rights reserved by Rossiyskaya Gazeta.