Cadila Pharma chooses site for Astrakhan plant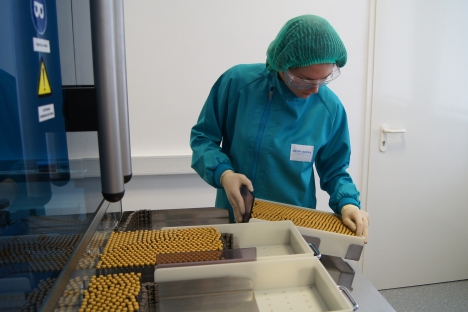 The establishment of the Astrakhan production facility is in line with Cadila's foreign expansion plans, which involve the increase of sales and establishment of production facilities in the emerging markets of Russia, China and African countries. Source: RIR / Yekaterina Chipurenko
The Indian pharmaceutical major moves a step closer to constructing a modern manufacturing facility in the Russian region.
Ahmedabad-based Cadila Pharmaceuticals Ltd's plans to build a pharmaceutical manufacturing plant in the Astrakhan Region, received a boost with the former selecting a site for the facility. The Narimanovsky district will be the site of the $150 million plant, according to local media.
Cadila is looking to buy 20 hectares of land with basic infrastructure and was offered five areas for realisation of their investment plans. A delegation from the Indian state of Gujarat had visited three of them, including the chosen site in the Narimanovsky district.
Top officials from Cadila were recently in the Russian region to discuss the progress of the project, with Rajiv Modi, Chairman and Managing Director of Cadila meeting Astrakhan Governor Alexander Zhilkin.
"We are interested in your business, above all because of its social and humanitarian dimensions that are aimed at providing medical treatment to people," Zhilkin said as he welcomed the guests from India. Modi had met an Astrakhan delegation led by vice governor Konstantin Markelov. The Astrakhan Region officials, who were in India for the Vibrant Gujarat Summit in January 2013, visited one of Cadila's production facilities.
"We showcased our production facility, as well as our achievements in establishing new plants and expanding markets for our medicines," Modi said. "It's good to know that our company's intention to enter the Russian pharmaceuticals market has met with support here in the Astrakhan Region."
Work on the new production plant started immediately after the Astrakhan Region delegation's visit to India. A delegation from Cadila came to Astrakhan in February to study the matter in detail. A project road map has been developed and a joint task force formed.
The establishment of the Astrakhan production facility is in line with Cadila's foreign expansion plans, which involve the increase of sales and establishment of production facilities in the emerging markets of Russia, China and African countries. The new plant would most likely produce the majority of the company's drugs and in particular its flagship anti-tuberculosis range.
The Indian state of Gujarat and Astrakhan signed a memorandum of understanding of co-operation in 2001. There have been regular delegation-level visits between the areas since then. The two provinces are also looking to sign a MoU between Gazprom and Gujarat State Petroleum Corp.
Based on materials from Novosti Astrobl.
All rights reserved by Rossiyskaya Gazeta.