Bright prospects for Indo-Russian cooperation in the realty sector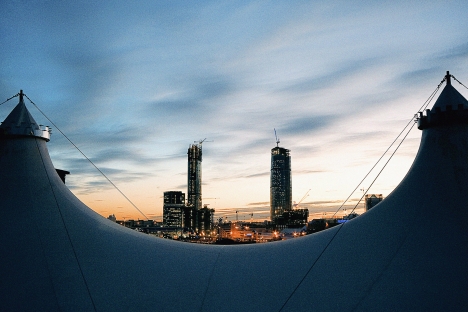 The Russian government was pondering over opening housing construction in Russia for foreign developers, who could take up to 10 percent of the local market. Source: RIA Novosti / Tatyana Gritsaieva
CREDAI, a major Indian realtors' body holds national convention in Moscow; participants explore opportunities in the housing in both countries.
Realty, a much under-represented sector in bilateral business relations, is likely to grow in the next few years, according to Indian and Russian government officials. The Confederation of Real Estate Developers' Associations of India (CREDAI), the apex body for private real estate developers in India, chose Moscow as the venue for its 13th national convention. Over seven hundred Indian realtors took part in the convention, which was held on July 26-28 in the Russian capital.
India's Minister for Housing and Urban Poverty Alleviation Girija Vyas said the forum would enhance the India-Russia realty sector cooperation, according to a report on The Hindu.
The construction industry has witnessed a major boom in Russia and India over the last two decades with Moscow and Mumbai holding some of the most expensive real estate in the world. Russia looks to replace hundreds of thousands of housing complexes built in the days of Nikita Khrushchev, while India whose economy has been consistently growing at high rates urgently needs to address housing needs in its cities.
Vyas emphasised that more affordable housing needs to be built in India to tackle the issue of the country's rapid urbanisation, according to The Hindu. She also said that the Russian petrodollar investment in the Indian real estate would be welcome, especially considering the current liquidity problems faced by the realty sector.
Russia's Deputy Prime Minister Igor Shuvalov said the Russian government was pondering over opening housing construction in Russia for foreign developers, who could take up to 10 percent of the local market, according to the paper.
India realty developers have not widely entered the Russian market, but some Moscow-based Indian businessmen have made ten and even hundred million dollars worth investments in the local real estate, according to the report.
Last year, Russia built 65.5 million square metres of housing, several times more than India did, both in absolute terms and in proportion to the size of the population, The Hindu said.
"Russia's WTO accession last August has opened up commercial real estate opportunities, especially in major Russian cities," India's Ambassador to Russia Ajai Malhotra was cited by the paper saying. "Some Indian real estate developers are also looking to evaluate opportunities in the new territories added to Moscow last year, which has more than doubled the city in size."
CREDAI represents over 8,800 developers in India through 20 states and 114 city level member associations across the country. The association works to network developers closely with government representatives, policy makers, investors, finance companies, consumers and real estate professionals.
All rights reserved by Rossiyskaya Gazeta.