NLMK plans to increase steel supplies to India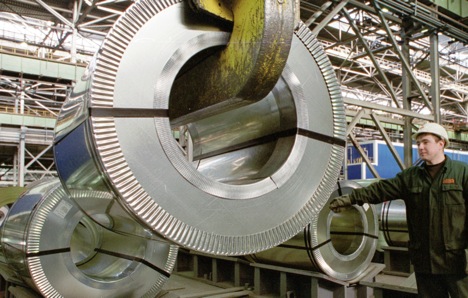 NLMK currently supplies the Indian market with 40,000 tonnes of transformer steel per year. Source: ITAR-TASS
The Lipetsk-based company estimates the total market for transformer steel in India to be more than 200,000 tonnes per year.
Novolipetsk Steel (NLMK), one of Russia's largest steel producers, plans to increase exports to India in 2013, company president Oleg Bagrin told reporters
NLMK currently supplies the Indian market with 40,000 tonnes of transformer steel per year. Bagrin estimates that the total market for transformer steel in India to be more than 200,000 tonnes per year. He believes the steel market in the large economy is "experiencing double-digit growth."
"India is a promising niche market for us," Bagrin said. "We're currently supplying it with about 40,000 tonnes of standard-quality transformer steel. In the future we plan to start deliveries of premium-quality transformer steel – high-permeability steel. This year we plan to start production of high-permeability steel at our Lipetsk site. Then we'll start production at VIZ-Steel (Yekaterinburg)."
He explained that the growth in demand for transformer steel in India is linked to the country's high level of energy infrastructure requirements and the high rate of development in the energy and power engineering sectors.
"In today's extremely difficult market conditions our international division is balancing at the break-even point. At the same time the work of our foreign businesses is providing a stable workload for the production chain in the Russian part of the group," Bagrin added.
NLMK also intends to increase deliveries of motor vehicle body sheet for European vehicle-building businesses from its enterprises in the EU from the current 400,000 per year to 1 million tonnes.
NLMK Group manufactures a wide range of steel products, including slabs and blanks, hot-rolled and cold-rolled steel, galvanised and electrical steel, and also reinforcement, hot-rolled plate and other types of steel products with high added value. The main production facility is located in Lipetsk, at the NLMK company. The group also includes other companies in Russia, the USA and Europe.
The main shareholder in NLMK is the businessman Vladimir Lisin, who owns 84.6 percent of the shares in the group. 11.29m percent of NLMK's shares are traded in Russia, and also in the form of global depositary shares on the London Stock Exchange. In 2012 NLMK Group increased its steel production by 24.75 percent to 14.92 million tonnes.
First published in Russian in RBC Quote.
All rights reserved by Rossiyskaya Gazeta.