India poses many challenges for Russian banks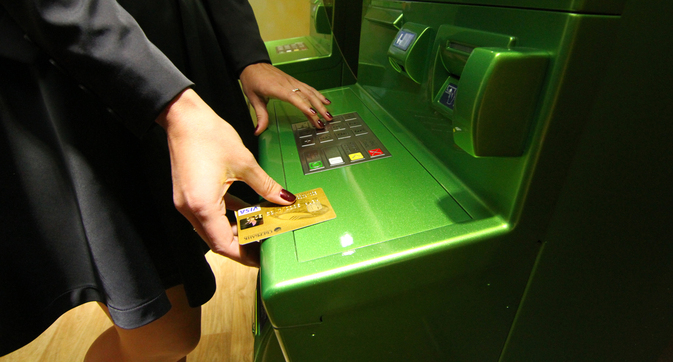 At present only two Russian banks, Sberbank and VTB Bank have branches in India. Source: ITAR-TASS
Analysts believe that Russian banks targeting the emerging Indo-Russian bilateral trade corridor should establish a proper branch network in India to secure their positions in complex and competitive Indian banking sector.
Russian banks operating in India so far were considered among those foreign banks having quite a nominal presence in the country. According to Reserve Bank of India (RBI) there are 43 foreign banks in the country having 331 branches (the top 5 foreign banks alone have more than 250 branches). 46 foreign banks have representative offices in India as on May 31, 2013. Russia is represented by 5 banks, most of which are state-owned. At present only two Russian banks, Sberbank and VTB Bank have branches in India. Rest of the banks operate through representative offices.
The banking industry is currently waiting for RBI's new roadmap for foreign banks which is expected to be announced shortly. As per the expected new guidelines, foreign banks established in India may have to convert their existing branches into whole-owned subsidiaries (WOS). It is not yet clear whether conversion to WOS will be optional or mandatory though.
Vladislav Voytsekhovich, managing director of Russia's largest state-owned bank Sberbank's branch in New Delhi, believes switching over to the subsidiary model instead of a branch will help existing branches to avoid double bookkeeping. "Today we have to keep accounting records with accordance with both Russian and Indian GAAP, whereas we would only do Indian GAAP as a subsidiary," Voytsekhovich says. "Indian GAAP is closer to IFRS and we have it automated already. Sberbank operates subsidiaries in all other countries, and it would only make sense if India becomes a subsidiary in the long run. In addition, the subsidiary model would open up more opportunities for Sberbank Group in trade finance and treasury," he adds.
The new RBI guidelines are likely to have a larger impact on those foreign banks that have a large presence in the country (Standard Chartered Bank, HSBC, Citi and RBS among others) and will hardly affect Russian banks represented by only one branch or rep office. However experts believe that for those banks willing to benefit from growing Indo-Russian trade, expanding their presence in India will be vital.
"I'm sure there is enough business between India and Russia and don't see a reason why Russian banks should not have a meaningful market share in Indo-Russian trade corridor," says Akil Master, Associate Director – Accounting Advisory Services, KPMG. "You take Indo-Asia corridor, Indo-US corridor, Indo-France corridor. Though we don't have that much trade with France as we have with Russia but we have some of largest French banks who have a significant presence in India." He adds that in order to secure sufficient market share Russian banks will have to set up branches in India.
"Recently we had ANZ (Australia & New Zealand Banking Group) who had quit India and came back opening branches because there is going to be too much of trade between India and Australia. So whenever you see trade opportunity there is no reason why you should not have a branch network," Master says.
Monish Shah, Senior Director, Deloitte in India agrees. "If you look at the bilateral trade between India and Russia, Russia was always a strong partner. And considering CIS countries too we get an important bilateral corridor that opens vast opportunities for trade finance and other financial activities making Indian market very attractive for Russian banks," Shah says. Since the government is likely to encourage full-fledged subsidisation of foreign banks in India, the question on most people's minds in the structure of Russians banks in India, according to Shah. "I think for players who have a long term view for India it will be beneficial to look at the higher capital commitments and they would still find that attractive to enter into India."
Ashvin Parekh, National Leader, Global Financial Services, Ernst & Young believes there is more scope for foreign banks in India in investment banking rather than in the commercial segment. "Let's say if there are huge infrastructure fund requirements or if large Indian corporates go out and acquire businesses outside India, in that case foreign banks play significant role where Indian banking is not equipped to do that," says Parekh.
He adds that having a representative office in India is not going to help foreign banks play a significant role in India in a long run. "Even if they want to participate in bilateral trade they should at least have minimum one branch," Parekh says. "It makes much more sense in coming as branch because it gives the ability to build a good portfolio in India."
There are no reasons that could restrict any banks from developing their business in India, he adds, except the reciprocity issue. However, in case of Russia and India there is no such issue, the countries are friendly, Parekh believes.
"The management of those Russian banks starting operations in India have a very long-range outlook," says Anton Soroko, analyst with Moscow-based Finam Investment Holding. "The Indian banking sector is going to be very dynamic, outstripping many other countries. In this scenario expansion in Indian market seems step with foresight. Though having a single branch cannot be actually called an 'expansion,' I believe we will see more Indian subsidiaries in some time. The strategies of largest Russian banks in India are determined by the will to take their stand in the market before the tough competition from other financial institutions shapes up," he adds.
Ashvin Parekh from Ernst & Young adds that the banking business in India is becoming very complex and extremely competitive in all segments thus leaving quite limited room for foreign banks without significant presence.
All rights reserved by Rossiyskaya Gazeta.