MiGs touch down on the Vikramaditya's deck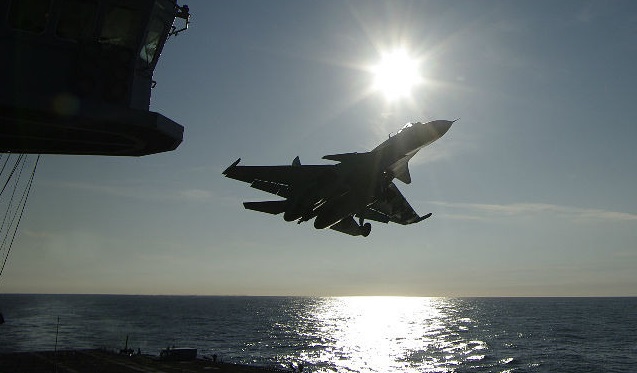 Su-33 aircrafts (featured above) were used in tests in 2012. Source: RSK MiG and OAO Sevmash archive
The last phase of tests on the Indian aircraft carrier began yesterday on the Barents Sea.
The final phase of tests on the INS Vikramaditya commenced on Monday, August 5, with a joint practice mission involving naval aircraft from Russia's Northern Fleet. The mission, in which MiG-29s performed several approaches at different altitudes and a touchdown on the aircraft carrier's deck, was led by RSK MiG chief pilot Mikhail Belyayev.
RSK MiG chief pilot Mikhail Belyayev. Source: RSK MiG and OAO Sevmash archive
Around this time a year ago, Belyayev flew over the Vikramaditya's deck together with test pilot Nikolai Diorditsa, who has been accorded the Hero of the Russian Federation title. The test pilots flew 517 sorties – including 41 landings and 41 take-offs from the aircraft carrier's deck – in July and August 2012, testing the aircraft, the fuelling and flight support equipment, the aircraft lifts, its launch assist systems and arresting gear.
Overall, the commissioning team had no complaints about the work of the aircraft wing or the operation of the ship's support systems. Representatives of the Indian Navy were also satisfied. But the testing wasn't completed in full; night-time take-offs and landings did not take place, for example, because of a serious failure of the ship's power plant. The fire-proof protection of all eight boilers gave in to extreme temperatures.
As a result, the aircraft carrier was returned to Sevmash last autumn to undergo a complicated nine-month overhaul with assistance from representatives of the Baltic Shipyard (where the boilers were manufactured). The deadline was duly met, and the aircraft carrier, complete with repaired boilers, sailed into the White Sea on July 3. The ship passed every other trial a day before Navy Day and developed the top speed of 29.3 knots under regular load at full displacement.
According to earlier plans, the full testing cycle involving an aircraft wing and maritime training for the Indian crew is scheduled for completion by October 15. After that, one month will be allotted to eliminate any minor flaws. The INS Vikramaditya should be handed over to the Indian Navy in November.
Delay in air defence system
The Vikramaditya will have to wait another 3 years for a air defence weapon, The New Indian Express reported on Monday.
The delay in getting the Long Range Surface-to-Air Missile or LR-SAM will be at the Indian end, the paper said, adding that India decided to develop it jointly with Israel and the project is facing delays.
The aircraft carrier will be retrofitted with a Russian-origin AK-630 rapid fire gun, during its first and immediate refit on arrival in India, the paper said.
All rights reserved by Rossiyskaya Gazeta.