Indian practitioners to help promote Ayurveda in Russia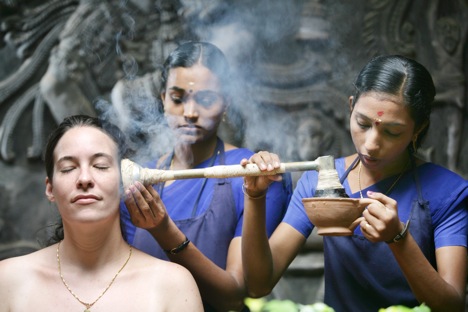 The MoU would help bring more Russian tourists seeking Ayurveda treatment to Kerala. Source: Alamy/Legion Media
MoU signed between the Ayurveda Russia-India Association and Ayurveda Hospitals Managements Association to increase cooperation in the Indian traditional medicine system.
Ayurveda, a form of traditional Indian medicine, has made steady inroads in Russia over the last decade, with Russians showing greater interest in the form of holistic medication believed to have lesser side effects. In a boost for the promotion of the system, the Ayurveda-Russia -India Association (ARIA), an organisation of the Ayurveda doctors practising in Russia, and India-based Ayurveda Hospitals Managements Association signed a memorandum of understanding (MoU) to promote Ayurveda in Russia, the New India Express said on Tuesday.
ARIA president Anita Karilio Arcas and AHMA general secretary Baby Krishnan told the paper that MoU looked to promote Ayurveda by ensuring quality treatment for Russian patients in hospitals and check the exploitation by massage parlours and unauthorised centres. It also calls for a 'Knowledge Exchange Programme' that would sensitise Russian allopathic doctors about the use of Ayurveda.
Arcas told the paper that ARIA was trying to get legalisation for Ayurveda in Russia and the organisation was spreading knowledge about the traditional Indian system. Several people from Russia were already visiting Kerala to undergo an Ayurvedic treatment, the paper cited Arcas as saying.
Dr Madhav Chandran, director of the Nagarjuna Institute of Ayurvedic Research told the paper that, the MoU would help bring more Russian tourists seeking Ayurveda treatment to Kerala. There are also plans for sending more doctors and paramedical staff to Russia to provide treatment, he added.
India and Russia have already signed a MoU on the cooperation in the field of Ayurveda teaching, treatment and research.
Over the last 15 years, Russia has made vigorous efforts to go in for Ayurveda in the country. With India's support and assistance, Russia set up Russian-Indian Centre on Ayurvedic Research in Moscow in October 2004. Genotype-phenotype studies on Prakriti and comparison of Indian and Russian population are being presently pursued at the centre.
A permanent exhibition is also to be set up in the Russian capital for promotion and sale of Ayurvedic medicines. Indian Ayurvedic specialists have also shown keen interests in growing some medicinal herbs in Russia that cannot be cultivated in the hot climate of India.
All rights reserved by Rossiyskaya Gazeta.