Russia remains India's biggest defence exporter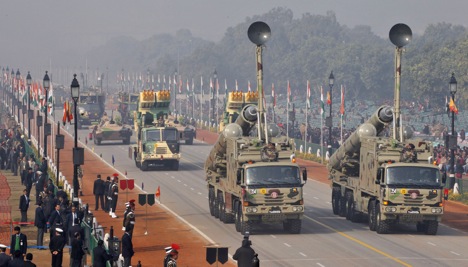 India is planning to spend $100 billion in the next five years or so to add muscle to its armed forces. Source: Reuters
In the past three financial years, Moscow has bagged arms and ammunition orders worth over $16 billion dollars.
Russia has emerged as the biggest beneficiary of Indian defence splurge in the past three years from April 1, 2010 to March 31, 2013. India spent over $38 billion dollars (at current exchange rates) in this period for procuring weapon systems for the three armed forces, Indian Defence Minister AK Antony informed the country's parliament on August 12. Russia has bagged defence orders worth over $16 billion dollars, retaining its number one position in the Indian defence market.
During this period India procured weapon systems from several countries including Israel, the US, the UK, Poland and Sri Lanka, apart from Russia. However, countries like Israel and the US which have emerged as India's number two and number three largest defence exporters are nowhere close to Russia in claiming the Indian defence pie.
This news should cheer up the Russian arms and weapons manufacturing companies as India is planning to spend $100 billion in the next five years or so to add muscle to its armed forces. A sizable chunk of this amount has to come from foreign sources despite India's stress on 'Buy Indian' and 'Buy and Make Indian' in the latest edition of Defence Procurement Procedure-2013.
Russian arms exports impressive despite recession
The above news from India confirms and corroborates the impressive performance of Russian arms manufacturing companies over the past few years despite an ongoing global economic recession that is not showing any sign of abatement.
The current order books of the Russian arms exporters are worth $46 billion. Russia's current annual arms exports exceed $ 15 billion and this minimum benchmark figure will remain for the next three years, even if it is presumed that Russia fails to bag a single defence contract.
Key Russian officials have confirmed the uptick in the Russian arms exports. Alexander Fomin, Director of the Federal Service for Military-Technical Cooperation, was quoted as saying earlier this year that Russian arms exports have tripled. Fomin had also said that Russia exceeded arms and military equipment export targets by almost 12 percent in 2012.
Indo-Russian defence cooperation
The Indo-Russian defence cooperation would come up for a thorough review at the next Indo-Russian Intergovernmental Commission – Military and Technical Cooperation (IRIGC-MTC), chaired by the two defence ministers, which is scheduled to be held in Moscow in October this year.
Indian officials are hoping to effectively address Russian concerns as India, of late, has been pursuing a policy of diversifying its defence procurement basket, thus reducing Russia's share in the Indian defence pie.
For example, in 2011, Russia's total defence exports amounted to over $ 12 billion, of which India accounted for almost one-thirds of this figure. While decades ago, India's defence imports from Russia used to be anywhere between 60 to 80 percent of its total defence procurement from foreign sources, this figure has now come down drastically. Indian defence imports from Russia currently range between 27 to 35 percent of total Russian exports, confirming that India none the less continues to remain a major client for the Russian arms manufacturers.
The writer is a New Delhi-based journalist. His Twitter handle is @Kishkindha.
All rights reserved by Rossiyskaya Gazeta.