Joint production way ahead for Indo-Russian defence ties - Kadakin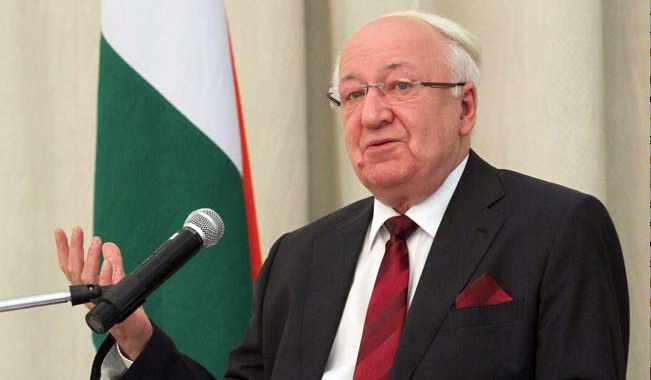 Kadakin: "We want to see India as a strong, prosperous, powerful state, including in the military field." Source: Embassy of the Russian Federation in the Republic of India
Russia's Ambassador to India believes that the future of the defence relationship between the long-term allies is in the sharing of modern technologies and joint production.
On the eve of India's Independence Day, Alexander Kadakin reflected on the Indo-Russian strategic partnership and spoke about the future of bilateral defence and economic relations.
For decades your activity as a key Russian diplomat is inseparably linked with India, with relations between our country and India. What are their peculiarities? Explain briefly some significant instances in which you have participated.
On the eve of India's Independence Day - a very memorable, sacred day for Indians - I would like to warmly congratulate one billion and two hundred million of our friends in this beautiful, ancient, and very friendly country! Among the most memorable events of my diplomatic work I'd like to mention the Declaration of Strategic Partnership with India, which President Putin signed in October 2000, during my first Embassy rotation.
Now this basic, fundamental document defines our relationships. This declaration made a very important precedent in the international diplomatic practice; this is a new form of diplomatic communication between two states - a strategic partnership, i.e. mutual confidence for many decades to come. Exactly ten years later, the two parties characterised this strategic partnership as a particularly privileged strategic partnership between two countries. I was directly involved in these events. Our relations are characterized by the highest degree of openness and trust, and of course mutual understanding and friendship.
Besides the consistency of the development of relations between our countries, it should be noted that lately there have been some difficulties in some areas. The mutual trade and mutual investments of private businesses are not growing rapidly enough. Rosatom, AFK Sistema and KAMAZ have faced difficulties in India. The situation has changed in the field of defence cooperation, which more recently was leading among all other areas of Russian-Indian ties. Does this reflect a trend or is it just teething troubles?
I think pessimistic assessments are inappropriate here. It's too early to bury our military-technical cooperation! Of course those who are busy with real work face problems from time to time, but these are teething troubles. All these pseudo-prophets from overseas are trying to throw a spoon of tar in a barrel of honey, exaggerating and inflating our one or two defeats regarding tenders. Look: a tender is, in essence, a 'seller – buyer' relation. These are not modern relations in spite of all their supposed transparency and objectivity. We hand the most modern technologies to India, including military ones. I wonder what 'world tender' could give India such a wonderful Vikramaditya aircraft carrier, which is about to head out of our Northern seas towards India? Tell me, what country in the world would give India the technology of producing aviation equipment and all the advanced things that we now possess? The future of our relationship lies precisely in this, and not in tenders, whose value is being incredibly inflated. And take the joint production of the world's best BrahMos cruise missile, which can be underwater-, surface-, and ground-based, and will also be placed under the wings of a plane next year. Tenders are tenders, but no country in the world shares with India the most secret and confidential things that it possesses. Look, now there are problems with Rafale, and again due to the issue of technologies transfer. Can you name another country, besides Russia, that would honestly hand technologies to India? There is no such country. This is the fundamental difference between our military-technical cooperation with India and its cooperation with other states. We want to see India as a strong, prosperous, powerful state, including in the military field. And to achieve this, we have done everything we can for the last 50 years, and are doing so now, and we will confidently move towards the future together.
Analyzing bilateral ties and forecasting their development for the near future and their prospects, in your opinion, what really achievable priorities can be named?
First of all, the development of civil nuclear energy. According to the estimates of Indian scientists, even if by 2030 India buys up all the oil produced in the world, it will not be enough for its progressive, stable, and sustainable development. Nuclear energy, whose foundation was laid by Prime Minister Nehru, is vital for India. All intelligent Indians understand that perfectly. Fortunately, we are far ahead of other competitors. The first unit has already been launched. Our roadmap on cooperation regarding the peaceful use of atomic energy, which was signed, remains on the agenda, and we will continue to work on it despite the difficulties that arise, including in connection with the recently adopted Indian domestic legislation on civil liability for hypothetical damage. That's what we do, because the road map provides for a serial construction of up to 16 nuclear units.
First published in The Voice of Russia.
All rights reserved by Rossiyskaya Gazeta.