Ignition of weapons may have caused Sindhurakshak blast: A K Antony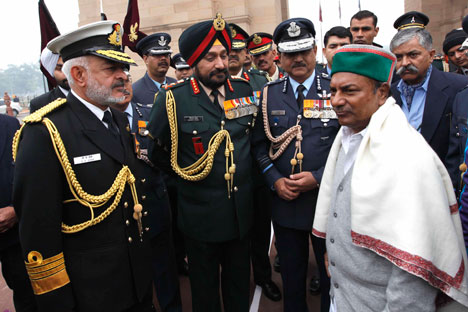 Antony: "Preliminary investigations indicate that the explosion was due to the possible ignition of armament." Source: Getty Images/Fotobank
The Indian Navy has ordered checks on weapon-related safety systems on all its submarines, according to the defence minister.
The explosions that sank the INS Sindhurakshak last week may have been caused by its weapons igniting, India's defence minister A K Antony told India's upper house of parliament on Monday.
The INS Sindhurakshak, a Kilo-class (Project 877 EKM) diesel-electric boat, sank at its moorings in the port of Mumbai on August 14 after a series of blasts devastated the vessel and triggered a fire. Six bodies have been found on board the sunken boat so far while the search continues for another 12 crew members who the navy says are almost certainly dead.
"Preliminary investigations indicate that the explosion was due to the possible ignition of armament," aboard the INS Sindhurakshak, Antony said. "The cause of ignition is, however, yet to be established. Forensic examination would throw more light into the possible cause of ignition," he added.
The Indian Navy has ordered checks on weapon-related safety systems on all its submarines, Antony said.
The Sindhurakshak was returned to the Indian Navy in January following a refit at Russia's Zvyozdochka shipyard which included installation of 3M-54 Club-S cruise missiles and their associated fire-control systems and launchers, the yard said previously.
The boat successfully fired Club-S missiles last December in post-refit sea trials off northern Russia.
That refit followed a fatal fire in 2010 that killed a crewman. An Indian Navy investigation said that incident was caused by a defective battery, the Hindustan Times reported.
Zvyozdochka says its experts in India have not been invited by the Indian Navy to take part in the investigation into the boat's sinking. "The Indian side has not yet contacted us with a request for our group's specialists to take part in finding out why this accident happened," a shipyard spokesman told RIA Novosti Monday.
The final cause of the accident is likely to be found only after the boat is raised and drained, Antony said, adding that the navy was in discussion with salvage agencies about a possible recovery operation.
The boat is currently on the bottom in Mumbai harbour with only the top of its conning tower and masts visible.
First published in RIA Novosti.
All rights reserved by Rossiyskaya Gazeta.