Offshore investment from Russia to British Virgin Islands jumps 15-fold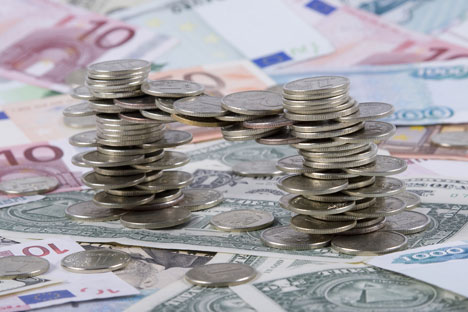 Russians invested $70 billion into their offshore jurisdictions during the first quarter of 2013. Source: PhotoXpress
According to central bank data, Russian citizens invested $70 billion into their offshore jurisdictions during the first quarter of 2013, with $31.7 billion going to the British offshore haven.
Russians have redirected their offshore investment to the British Virgin Islands from troubled Cyprus, despite the government's calls to bring the money back to Russia. TNK-BP sale helped boost Russian capital in the British tax haven to $31.7 billion.
Overall, Russians invested $70 billion into their offshore jurisdictions during the first quarter of 2013, according to the data by the Central Bank of Russia (CBR).
The British Virgin Islands was the most popular location, with Luxembourg taking the second place.
The CBR links an unusual jump of the investments into the British offshore zone to the last year's sale of TNK-BP to Rosneft. The sellers of the 50 percent of the Russia-British joint venture struck the deal through companies Alfa Petroleum Holdings and OGIP Ventures registered in the Virgin Islands, business daily Vedomosti reports. The Russian investors earned $28 billion selling its half of the company. And a newly established investment company LetterOne Holdings in Luxembourgh got over $15 billion after the deal, according to the report.
At a meantime, direct investment to Cyprus fell to $2.72 billion in the first quarter from $21.13 billion in the fourth quarter of 2012 after the country's collapsed banking system saw Russian accounts frozen.
"This is a clear link to Cyprus. This could be explained by a change in offshore jurisdiction as Cyprus became less convenient for economic entities," the WSJ quotes the chief economist of the Russian conglomerate Sistema, Evgeny Nadorshin.
Prior to the financial crisis in Cyprus, Russian individuals and businesses accounted for about 30 percent of deposits in the banks of the Mediterranean country. Russian banks and companies had about $19 billion in Cypriot banks at the start of 2013, the WSJ cites Moody's estimates.
Amid the crisis in the Cyprus banking system, Russia's President Vladimir Putin suggested that Russians might repatriate their money from offshore jurisdictions. Investors however appear to have shrugged the suggestions. Economists blame Russia's slowing economic growth, harsh investment climate and stalled privatization for channeling profits abroad.
First published in RT.com.
All rights reserved by Rossiyskaya Gazeta.