As MAKS celebrates jubilee, new innovations to be revealed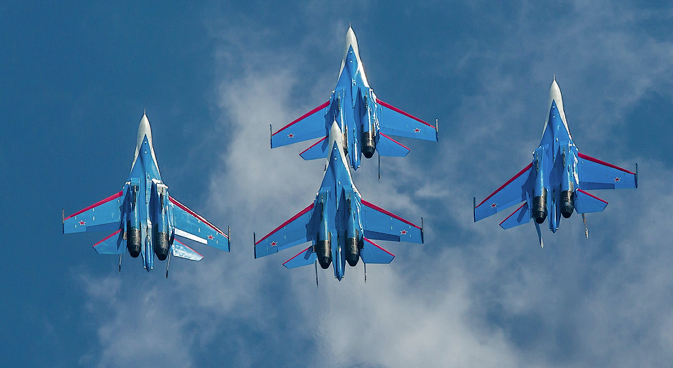 The famous Russian aerobatic team 'Russkiye Vityazi' (Russian Knights) will display their skills at the MAKS-2013 air show. Source: Ministry of Defence of the Russian Federation / mil.ru
The 20th anniversary of the MAKS international air show promises to be a treat for aviation enthusiasts with more than a 100 Russian and foreign aircraft displaying their prowess.
One of the world's largest air shows takes place in the town of Zhukovskiy on the outskirts of Moscow between August 27 and September 1 - the International Air and Space Salon MAKS-2013. This year's edition has over a thousand companies taking part, representing 43 countries.
In 2013, MAKS marks 20 years as the first international exhibition was held back in 1993. Over the past 20 years, MAKS has become not only a huge venue for demonstrating modern Russian technology, but has been a forum for attracting new partners in business.
The state corporation Rostec, which encompasses the majority of the largest Russian enterprises in the aerospace sector, traditionally acts as a general partner for the show. It is for the most part thanks to Rostec that today the exhibition occupies a special position among the biggest airshows in the world.
This year 10 out of 13 holding companies that come under the corporation will be presenting their innovative products.
The Joint Stock Company Radio-electronic Technologies Concern, which produces on-board equipment for military and civil aviation, is organising an exhibition this year in a separate pavilion that is 1,500 square metres in size.
Among the exhibits on display are advanced developments in navigation and handling for the MS-21 airliner, as well as unique equipment for the PAK-FA (T-50) fifth generation fighter.
However MAKS is not just business meetings and signing contracts. Many visitors come to Zhukovskiy because of the flying programme, which is thought to be one of the most colourful in the world. This year, 82 Russian aircraft as well as more than 20 foreign aircraft are taking part.
Displaying their skills will be the famous Russian aerobatic teams: 'Rus' (Rus), 'Sokoly Rossii' (Russian Falcons), 'Strizhi' (Swifts), 'Russkiye Vityazi' (Russian Knights), and the 'Berkuty' (Golden Eagles). The display by holding company 'Russian Helicopters', which is giving the first in flight demonstration of the Ka-62 transport helicopter, promises to become an outstanding and memorable event.
The holding company 'Russian Helicopters' holds first place in terms of total sales of military attack helicopters. According to statistics, one in six of the world's helicopters are produced at one of 'Russian Helicopter's' factories.
Visitors to MAKS will also enjoy the foreign participants. This year the People's Liberation Army Air Force aerobatic display team 'August 1st' will be flying to Russia for the first time, and demonstrating their Chinese produced jet fighters. The 'Breitling Jet Team,' the largest civil aerobatic display team in Europe will take part in the show for the first time this year. Meanwhile the French Air Force, having already become a traditional airshow participant, will be demonstrating their 'Rafale' fighters in the flying programme.
All rights reserved by Rossiyskaya Gazeta.