India to broaden economic ties with Samara Region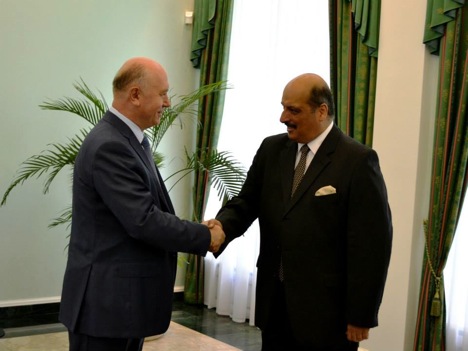 Ambassador Malhotra (r) met with Nikolai Merkushkin, Governor of Samara Region on 21 August, 2013. Source: Indian Embassy in Moscow
Science and technology, pharmaceuticals, aerospace engineering, chemical production and tourism are identified as key areas of cooperation between India and the Russian region that is a sister state of Karnataka.
After a year that witnessed substantial growth in bilateral trade India is looking to expand economic cooperation with Russia's Samara Region, a sister state of Karnataka.
India moved up from being the 20th largest partner of Samara Region in 2010 to being its 10th largest partner in 2012, the Indian Embassy in Moscow said. The country's trade with Samara Region stood at $142 million in 2012.
Ajai Malhotra, Ambassador of India to Russia recently visited Samara to promote bilateral cooperation with the region. In meetings with Samara Governor Nikolai Merkushkin, the ambassador discussed cooperation science and technology, pharmaceuticals, aerospace engineering, chemical production and tourism.
"Our trade volume is $141.8 million, including $119.1 million in exports – mainly energy, chemicals and industrial equipment, of course," Merkushkin said. "Even so, we are yet to realise our full potential."
The Indian ambassador said that the country's business community was interested in expanding economic cooperation, as well as tourism and cultural ties. "We are interested in such areas as pharmaceuticals, IT and manufacturing of auto components," Malhotra said. "Our companies are interested in investing in the region's economy and building plants here. In addition, the Samara Region is strategically positioned and has a well-developed transport infrastructure. From the logistics standpoint, that's an attractive factor for investors. Going forward, joint manufacturing of aircraft is possible, too."
Merkushkin said the Samara Region anticipates cooperation in the area of supply and joint manufacturing of medicines and pharmaceuticals. "Samara has an established medical school with a strong research foundation. We could train Indian specialists for joint ventures here," he said, adding that aerospace engineering is another area of interest. "The Samara State Aerospace University recently made it into the top 15 Russian universities," the governor said. "This allows it to promote itself internationally. In particular, Samara Aerospace will be hiring foreign professors. In two to three years' time it will become a training centre for the industry at the national level. Samara Aerospace has established a very solid basis for research and development."
The Samara governor also invited Indian businesses to set up shop in a new special economic zone. "We have established a Special Economic Zone near Togliatti, where the region offers various incentives," Merkushkin said. "Fourteen companies have become residents and three more have applied. The necessary infrastructure will be completed in 2014", he said.
Ambassador Malhotra noted that this proposal "might be interesting for Indian car and auto component manufacturers." Meanwhile, India's TATA Motors is already considering assembling buses in Ufa.
Nikolai Merkushkin also noted that infrastructure development would get a boost as part of the preparations for the 2018 FIFA World Cup. Samara would become home to the Volga Region's largest transportation hub, in addition to new highway interchanges and bridges.
First published in Russian in Samregion.ru.
All rights reserved by Rossiyskaya Gazeta.