BrahMos missiles substantially increase strike capacity of India's armed forces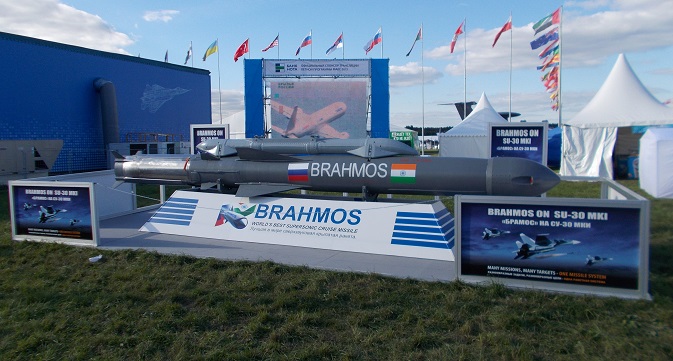 BrahMos missile at the MAKS-2013 international air and space show. Source: Boris Egorov / RIR
In an exclusive interview Praveen Pathak, General Manager (Market Promotion & Export) at BrahMos Aerospace talks about the capabilities of the missiles and the future of joint production in the defence sector between Russia and India.
At the MAKS-2013 international air and space show, we caught up with Praveen Pathak, General Manager (Market Promotion & Export) at BrahMos Aerospace, who shared his insights (in flawless Russian) about the supersonic missiles that derive their name from the two great rivers of India and Russia: Brahmaputra and Moskva.
Praveen Pathak, General Manager (Market Promotion & Export) at BrahMos Aerospace. Source: Boris Egorov / RIR
Several media outlets have reported that the Indian Air Force would get its first BrahMos-missile armed Su-30MKI in June 2014. Would you be able to confirm this?
We have already conducted all the requisite preliminary tests to equip the Sukhoi-30MKI with BrahMos missiles. We are planning the first launch in December. They should be commissioned in July 2015.
How do these missiles help India's strike capability?
We are well aware that time is of essence in winning a modern war. Whoever attacks at a lightning speed will win the war in the shortest time frame. We have seen that in the Iraq war. A strike with 1,000 Tomahawks all but destroyed Iraq's military capacity.
The BrahMos missile is ready to fire. We need four minutes at the most to prepare for a launch. It takes the missile five minutes to cover 300 kilometres. In nine minutes we can fire hundreds of BrahMos missiles at the enemy and destroy their capabilities.
The missile can hit strategic targets: warships, aircraft carriers or nuclear power plants. Hitting such a target would essentially put an end to a conflict by inflicting very serious losses on the enemy, so the BrahMos missile substantially increases the strike capabilities of India's Ground Forces, Navy and Air Force.
Although the BrahMos missiles are being manufactured using the latest Russian technology, so far the Russian armed forces haven't committed to buying any of the missiles. Can you explain why and if there are any prospects for Russia buying them?
We have a strong interest in BrahMos purchases by Russia's Armed Forces. We know they are legally prohibited from buying foreign-made arms and must only use domestically made ones. This approach has been changing lately, particularly as far as joint products are concerned. Our representatives raised this issue today during PM Medvedev's visit (to MAKS on August 27- editor). They told us that the issue would be considered in due course. For instance, we are hoping that project 11356 frigates will get the BrahMos missiles soon. Six warships have been built for the Indian Navy and there is an outstanding order for six more for Russia's Navy.
The matter of adoption of the BrahMos by the Russian Armed Forces is a matter of cooperation. Both partners should have this product. That is what a joint venture is all about. The Russian-Indian agreement dating back to 1998 required Russia to purchase and use BrahMos missiles. We hope this will be the case before long.
It has also been widely reported that 14 countries are interested in buying BrahMos missiles. Are there any major deals in the pipeline?
In all, 14 countries have expressed an interest in BrahMos. We have a joint supervisory committee consisting of Russian and Indian representatives, which has identified the 14 countries for marketing promotion. We are working closely with those countries, taking part in shows and promoting our products. It is too early to talk about any specifics.
How do you see the future of joint production in the defence sector between Russia and India?
We see a big future for our joint projects. We kicked off the joint project with a budget of $350 million, including $50 million that was added for our airborne variants. Today, our orders exceed $6 billion. Over the past 15 years, we have achieved a level no other company has been able to achieve throughout the history of Russian-Indian relations. In addition, we are expecting an increase in orders over the next ten years. We are working on different projects together with Russia. The BrahMos is the world's best missile today. Five years from now, it will be the world's best hypersonic missile.
Are there any plans to jointly develop a hypersonic missile?
Figuratively speaking, we are "pushing" Russia towards developing a hypersonic missile. We signed an agreement with MAI (Moscow Aviation Institute) ahead of the previous MAKS. We are also working with many Indian companies and testing various options. The main challenge is to find materials resistant to very high temperatures. Although the hull is made of composite materials, at hypersonic speeds it is subject to heavy friction and high temperatures. To resolve this issue, a coating made of special alloys is being developed. That is an important matter on the agenda. We already have engines of a new design. It is fair to say that a hypersonic missile is only held back by the lack of the requisite materials for the hull.
All rights reserved by Rossiyskaya Gazeta.