Indo-Russian military aviation projects on schedule: HAL executive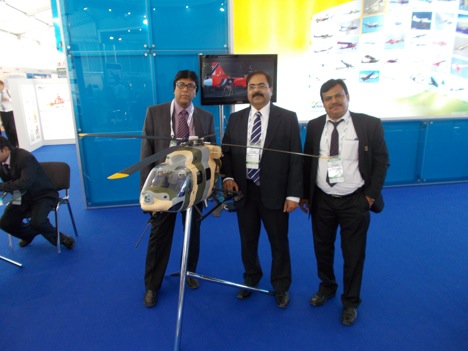 R.P. Chakraborty (right) spoke to RIR at the MAKS-2013 airshow. Source: Boris Egorov / RIR
Work on the FGFA, multi-role transport aircraft and the upgrading of India's Su-30 aircrafts are all going as per schedule, a senior HAL executive tells RIR at MAKS-2013.
Joint military aviation projects between India's state-owned Hindustan Aeronautics Ltd (HAL) and Russian companies are running on schedule, a senior HAL executive told RIR at the MAKS-2013 international air and space show.
"The FGFA (fifth generation fighter aircraft) is on the right track and on schedule," R. P. Chakraborty, Deputy General Manager (IMM) at HAL said on Wednesday.
When asked about the delays in the project, Chakraborty said they were on account of the design documentation in the contract, an issue that has already been resolved. The contract to develop a sketch and technical project of the fighter was completed in April 2013.
Source: Sukhoi.org
"A team of Indians is already in Russia and a Russian team is already in the design centre to go ahead with the work on the design," Chakraborty said.
The fifth generation fighter aircraft is being jointly developed by HAL and Russia's Sukhoi. FGFA is a derivative project from the PAK FA (T-50 is the prototype) being developed for use by the Indian Air Force.
Multirole Transport Aircraft and Su-30 MKI
While emphasising that schedules are being met for the Multirole Transport Aircraft (MTA), a medium-lift military transport aircraft, Chakraborty said there is a greater urgency to develop the FGFA. "Both Russia and India need the FGFA…but in the case of MTA, it's not the Russian government that requires it. We need it," he said
The MTA will replace India's Antonov An-32 transport aircraft and should enter the Indian Air Force by 2018.
The Sukhoi Su-30 MKI, a heavy, all-weather, long-range fighter is being assembled under license by HAL. "140 of these aircrafts are being upgraded now," Chakraborty said, adding the planes would have stronger radars, greater avionic sub-systems and an upgraded weapons system with an improvement in missile firing integration and firing.
Over a thousand companies, representing 43 countries, are taking part in the MAKS airshow, which marks its 20th birthday this year.
All rights reserved by Rossiyskaya Gazeta.